Disclosure: If you purchase an item via the links in this article, we may receive a small commission, at no extra cost to you. As an Amazon Associate, we earn from qualifying purchases. Thank you for supporting our site. 
I'm not sure if you've noticed but Advent Calendars are not what they once were!
Gone are the days when we were pleased to get a square of chocolate behind the cardboard window each morning – although there was something rather wonderful about opening those windows.
But Advent Calendars have progressed … A LOT! You can get advent calendars for almost anything it seems nowadays – from cheese to beer.
And, of course, our favourite – jewellery. What a treat to open a window each morning in the lead up to Christmas and discover a fabulous piece of jewellery?
Each year there are more and more fabulous advent calendars featuring jewellery. Even between 2022 and 2023 there is so much more choice. 
Herre, we look at the best Jewellery Advent Calendars for 2023 that we could find.
Some advent calendars are, understandably more expensive than others (wait until you get to the Tiffany advent calendar!).
Many jewellery advent calendars are 12 day calendars which are just as exciting. After things only really Christmassy 12 days before – and it also means you get a nicer gift behind each window than spreading it out over 24 days.  
Clogau Gold feature a calendar which runs from December 25 – January 5th. 
Best Jewellery Advent Calendars 2023
Missoma
Missoma's Advent Calendar has almost developed cult-like status and sells out incredibly quickly each year. For 2023 they have, once again, brought out a gold one or a silver one.  Both are for the 12 days before Christmas.
In addition to this, Missoma have also released their first ever Fine Jewellery edition.
All Missoma's advent calendars are available for a very limited time and in limited numbers – they always sell out very quickly.
Missoma Advent Calendar – Silver £365
Featuring jewellery worth £803, this calendar has a jewel-tone interior with a mirror inside. With 12 boxes in gold foil which open to reveal 12 of the best-selling jewellery pieces.
We have listed the individual items below the image. 
The jewellery items included in the Missoma Silver Advent calendar are: 
Lucy Williams Tiny Orb Hoop Earrings
Lucy Williams Armour Cuff
Interstellar Drop Bracelet
Star Bracelet
Mini Claw Charm Hoops
Pavé Huggies
Double Bar Studs
Chubby Hex Huggies
Chunky Claw Ear Cuff
Lucy Williams Tiny Horn Necklace
Harris Reed North Star Pearl Necklace
Bobble Chain Choker
Missoma Advent Calendar – Gold £395
Missoma's gold tone advent calendar at £395 features products which, if purchased individually would cost £917.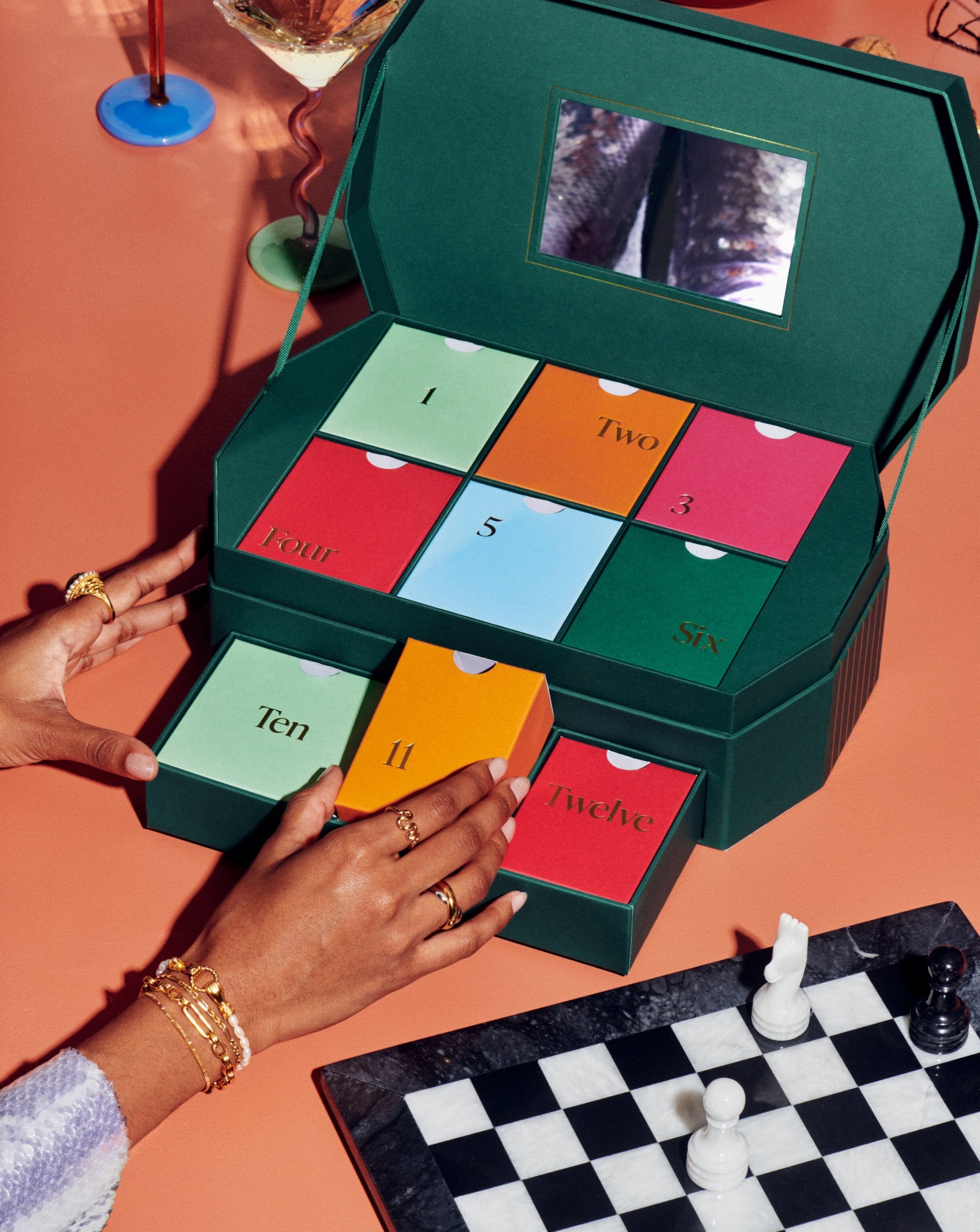 With a similar interior to the silver calendar, it features the following, best-selling products:
Amazonite Mini Pyramid Charm Hoops
Lucy Williams Tiny Orb Hoops
Lucy Williams Armour Cuff
Interstellar Drop Bracelet
Pavé Star Bracelet
Prism Studs
Pavé Huggies
Double Bar Studs
Zenyu Fan Gemstone Stud Earrings
Lucy Williams Tiny Horn Necklace
Harris Reed North Star Necklace
Bobble Chain Choker
Missoma fine advent calendar
For the first time ever, Missoma is introducing a Fine Jewellery advent calendar. Featuring jewellery worth £3,496 it costs £2,295 and is a beautiful Christmas present in itself (hint, hint!). 
Missoma's fine jewellery calendar contains the following pieces of beautiful jewellery:
Fine Bar Stud Earrings
Fine Diamond Heart Stud Earrings
Fine Diamond Small Star Stud Earrings
Fine Classic Small Hoop Earrings
Fine Diamond Studded Huggies
Fine Pearl Huggies
Fine Pearl Organic Drop Mini Hoop Earrings
Fine Square Snake Bracelet
Fine Diamond Solitaire Trio Bracelet
Fine Vervelle Chain Bracelet
Fine Baroque Pearl Organic Pendant Necklace
Fine Twisted Short Chain Necklace
12 days of clogau advent calendar £500
We think this is a novel twist to an advent calendar and makes a beautiful Christmas Day present.  The Clogau 12 Days of  Clogau Festive box, contains 12 boxes to be opened from the 25th December to the 5th January. 
The box features pieces of jewellery containing rare Welsh gold, including seven silver jewellery pieces . All in all the collection is worth over £800 and costs £500. 
The Clogau box contains the following:
Clogau Christmas Bow Christmas Pendant
Christmas Tree Decoration
Clogau Christmas Bow Silver Stud Earrings
Clogau Mirror
Clogau Always in My Heart Affinity bracelet
Clogau Atominiser
Clogau Tree of Life Insignia Silver Stud Earrings
Clogau Silver Snowflake Locket
Clogau Bookmark
Clogau Milestones Silver Charm
Cariad Keyring
Clogau Christmas Tree Silver Affinity Bracelet
Abbott Lyon's Advent Calendar £250
With a personalised calendar with silver jewellery inside available, as well as a gold version, and each selling for half the price of the jewellery inside – a £250 price tag on £450 worth of jewellery – this is another popular advent calendar.  The personalisation doesn't just stop at th recipients name on the front of the advent calendar, but inside there are bithstones and pieces related to that customer.
Joma Jewellery Advent Calendar £159.99
As with anything Joma Jewellery seem to produce, their 12 Days of Spakle Advent calendar at £159.99 is one of the best with lots of silver or gold plated treats. 
Vogue commented that this is "the best most affordable jewellery advent calendar". 
The lovely part of this advent calendar is that the individual numbered boxes are housed inside a jewellery box which can be reused afterwards. 

pandora 12-day advent calendar £350
Pandora are introducing their first advent calendar in 2023. Featuring products worth over £500 it is available for £350.
It features a full range of Pandora jewellery including:
A silver Sliding bracelet
Ice Murano Charm
Openwork Charm
2 Clip charms
Elevated Heart Necklace
Elevated Heart Studs
Moments small O Pendant
Curb Chain Necklace
£15 care kit (redeemed instor/online)
Padlock and Key Charm Pendant
Jewellery Box voucher (redeemed instore/online)
Snowglobe charm
Stocking charm
Oliver Bonas Advent Calendar
The 12 Days of Dazzle jewellery advent calendar from Oliver Bonas has lots of silver or gold plated treats, such as four pendants/necklaces, two bracelets, six pairs of earrings, some with tourmaline, green onyx or pearl. 
Great for layering, this is a gold-plated collection at a price that comes in at under £300.
Estella Bartlett Advent Calendars
With the option of a silver-plated or gold-plated version, these advent calendars are a better price-point for many at £180. Each Advent box contains jewellery and gifts (including a scrunchie and candle) valued at £348. 
Swarovski Crystal Advent Calendar
Not exactly a jewellery advent calendar but crystals released in celebration of 100 years of Disney and so lovely we had to include it! This stunning 25-day advent calendar features 25 expertly cut Swarovski crystals, never before released and only available for the 2023 calendar. The pieces are sure to be collector's items and feature 22 oranments in cut crystal as well as a set of two necklaces and sticker fun  oko
astrid & Miyu's advent calendars
Astrid and Miyu – who are a much-loved jewellery brand with many adoring fans – have brought out three different jewellery boxes this year. 
With a 12-day calendar in either silver or gold-plated silver, a five-day solid 14k gold box or a sublime 24-day box in either sterling silver or gold-plated silver. 
The price point may be the deciding factor for which one to chose but they are all delightful and sure to be a lovely treat each December morning. 
12 day advent calendar
Available in either a silver or gold version, this 12-day advent calendar from Astrid and Miyu. 
Featuring 12 sets of earrings, these advent calendars are loved by Astrid and Miyu fans. 
14k gold advent calendar
Astrid and Miyu's 14-carat advent calendar is sublime. Although it features just five pieces instead of the mainly 12 pieces from other advent calendars, these are crafted in 14k solid gold with white topaz stones or pearls.
The jewellery, which will be treasured a lifetime, is presented in a reusable three-tiered  jewellery box with a lifting lid with a mirror inside. 
24-day advent calendar
Another corker from Astrid and Miyu – this is a 24-day advent calendar for those who want to relish their jewellery each day for the entire month of December (and who doesn't?!). 
Crafted in either rhodium-plated sterling silver or 18k gold-plated sterling silver, it features a full range of earrings, bracelets, necklaces and ear cuffs.

tiffany & co advent calendar
Just as you'd expect this fabulous advent calendar from Tiffany & Co oozes luxury and is the advent calendar you dream about.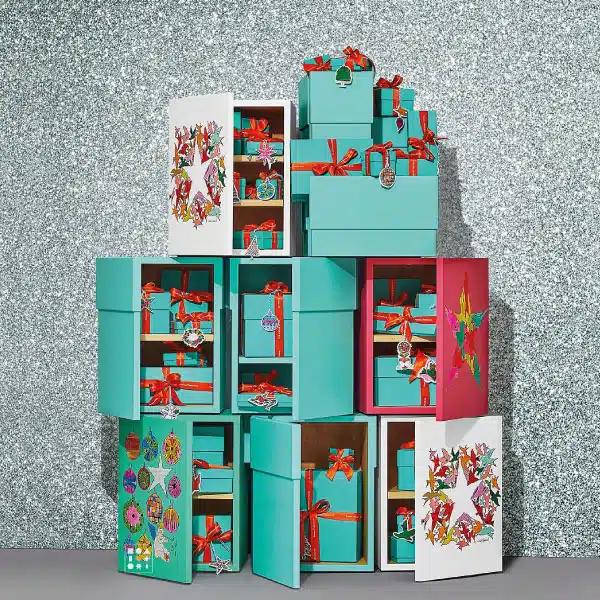 It features 24 gifts including necklaces, pendants, bracelets and earrings, including those with diamonds and jewels (they don't disclose exactly what items are inside). 
Each day your gift is labelled with a personalised label illustrated by the artist Andy Warhol. 
The box itself is a work of art with over 50 hours work to create it, featuring opening doors based on the iconic Tiffany boxes. 
Coming in at £110,000 you will need to book an appointment to purchase one. 

Crystal Advent Calendar 
For those who love their crystals this is a great little, inexpensive advent calendar which will be great fun throughout December.
A lovely choice to learn about those crystal. 
children's crystal advent calendar
This is a fabulous advent calendar for kids with 24 crystals – including tiger's eye, hematite, green aventuring and many more – culiminating in a special crystal (rose quartz) which needs to be unearthed from a miniature dig brick on Day 24. 
The advent calendar includes 5 jewellery pieces where the gemstone crystals can be set, to create their own unique pieces of jewellery. 
This is a great advent calendar for children and much better than chocolate each morning throughout December. 
To Sum Up …
We think these are the best of the advent calendars around a jewellery theme that we have spotted this year. 
We hope you are lucky enough to get one and, if you do, that you enjoy your treats throughout December. 
Whether you do or not, have a lovely Christmas anyway, from all of us here.