Disclosure: *Some of the links on this website are affiliate links. This means that if you click on the links and make a purchase I may earn a small commission at no extra cost to you. As an Amazon Associate, we earn from qualifying purchases. This helps support our small blog.
We have all got jewelry chains of various types but we often have no idea what the name of the chain links is. Most of the time this doesn't matter. We like our bracelet or necklace chain and we don't need to know what the style of the link is called.
But sometimes we do want to know the chain names. We may want to replace the chain, or buy a matching chain. We may want to buy a gift for a loved one or replace a lost and treasured necklace chain. We can see, in our minds eye, what the chain link looks like but need to know what the style of link is in order to find it online or request it in a store to buy. 
We may also be starting from scratch and want to buy a chain suitable to wear with a pendant – it's not just big chain links we want to identify. 
For instance, what is a good strong link chain that is suitable for carrying a heavier pendant but doesn't actually look heavy? (Hint …curb link necklaces are good for this!).
Which chain link necklaces are a popular choice by men, for instance?
Some link styles are decorative enough that they look great worn alone and don't need a pendant. Chains with flat links are good for this. Some links are trickier to wear with a pendant, for instance chains with square links. 
It's not enough to just buy a chain – the type of chain is important.
We have therefore created this definitive guide to chart the different types of chains. Our aim is to show you the wonderful choice of different chain links available. 
You are sure to recognise a number of styles of chain links, and maybe you'll see some that you didn't know existed. 
The jewelry chain types are laid out in alphabetical order. We will then talk about the most suitable chains for different requirements.
Obviously, all these jewelry chain link styles are available in many materials – from stainless steel or gold-plated metals, to solid precious metals of silver, yellow gold or white gold.
All chain link styles will be available in various thicknesses and weight as well as in a huge variety of lengths to suit any requirement.
Different Types of Necklace Chain Links in Alphabetical Order
Anchor Chain (Mariner Chain)
Buy on Amazon
An anchor chain, as the name implies, has the nautical look of the chains found around dockyards, tethering boats safely to port.
The chain links are oval-shaped and flat and are sometimes cut with a straight edge. There is normally a connector chain link across the center of each link.
The flat anchor chain is often called a Mariner chain (sometimes mistakenly called a 'marine' chain). A round anchor chain often doesn't have the central connector through the middle of each link.
Men like this chain as it suits a heavier style and lays flat against the skin, perfect for wearing without a pendant hanging from it.
Similar chains are the trace chain or cable chain, which is much finer, or a belcher chain which has round links. 
Ball or Bead Chain
A ball chain – sometimes called a bead chain – is made up of little polished balls of metal (silver, gold or steel) which have a tiny hole in each side, through which a straight connecting pin is inserted. The balls are spaced evenly apart and close together.
These chains are another favourite with men.
The military traditionally wore their Identifying Tags (called a Dog Tag) from ball chains and this is the reason you see so many men's dog tag pendants hanging from a ball chain. 
These chains look good worn on their own or with a dog tag or other pendant attached. 
Buy on Amazon
Similar chains are the Intermittent Beaded chain, sometimes called the Intermittent Bead Chain or Station chain (shown below) where the "ball" or "bead" appears stationed along a trace chain at regular intervals.
Buy on Amazon
Belcher or Rolo Chain
This style is one of the most popular types of chains. The belcher is made of round wire, or circular, interlocking rings. This necklace's other name is called the Rolo chain ('rolo' in Italian means "round").
These chains start as D-links until they are shaped into circles. Various thicknesses are available and, of course, multiple lengths are made. 
Men like the heavier belcher chains, worn alone or with a pendant and these chains are perfect for everyday wear. 
Finer belcher links in chains are often worn with pendants as they look good without detracting from the pendant.
The rolo chain styles also work well with "Station" bracelets or necklace chain links already mentioned – a gemstone or other style of link is spaced intermittently along the jewelry chain (like the cylinder shaped link in the image below). 
Box Chain – Also called the Cube, Briolette or Venetian Types of Chains
A popular chain that is a good chain link style for jewelry.
Rectangles are shaped into square, box-shape links which are interlocked to form a chain. A thicker Box chain also makes a fabulous necklace on its own without a pendant.
The box chain, or venetian chain as it is often called, catches the light so nicely as it is worn that this style looks effective on shorter chains sitting just in the nape of your throat.
Buy on Amazon
Byzantine Chain – Also called the Birdcage chain or Idiot's Delight Chain
This is a beautiful, elegant-looking chain has a unique look and is normally worn on its own without a pendant. Due to the number of links involved in creating this chain, it results in a thicker chain.
As well as being called a birdcage chain, this style link is called the Idiot's Delight chain – almost certainly because those that made it felt that their fingers were being tied in knots in creating the twisted pattern!
It has a rope or tube look and is supple and bends well. Formed from circular links and ovals, it is a four-in-one link, which means each link passes through four others. 
This chain is weightier and quite substantial and is adored by men and women. Popular as silver or gold chains it makes a real statement piece, perhaps for a ball or a prom.
Curb Chain
The curb link chain is possibly one of the most used links. This style looks great with or without a pendant and, never detracts from the intricacy of the pendant. 
A curb chain is strong, due to the design of the interlocking square links and leads to a sturdy chain. 
The individual links are square and shorter links creating a simple design which is perfect for carrying heavier pendants and also look great on their own are the curb link. 
It is also probably one of the most recognised necklace chain links. Curb chains come in a multitude of weights and thicknesses – from the finest chain through to heavy-weight men's chains. Beautifully pliable, this chain won't kink or break easily.
A curb chain is perfect for men or women, in a fine or thick chain and available in lots of different lengths. When the open links are placed close together is forms what is called a 'Close Curb' link in contrast to the longer link of the curb. 
Cuban Chain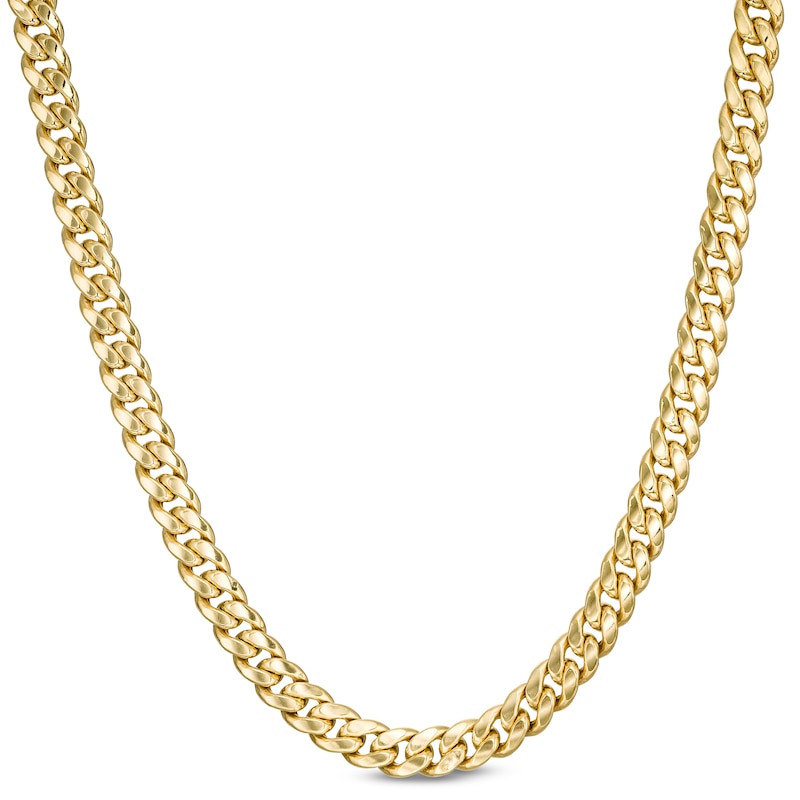 Oval links intersect to form a chain, the Cuban link chain is very similar to a curb chain, only the links are more oval-shaped and lay slightly at a diagonal and are closer together than a curb. The resulting chain is heavy and substantial. 
This chain is one of the most popular mens gold chain link necklace or silver chain link styles.
Variations on the Curb and Cuban Link Chains
Double Link Chain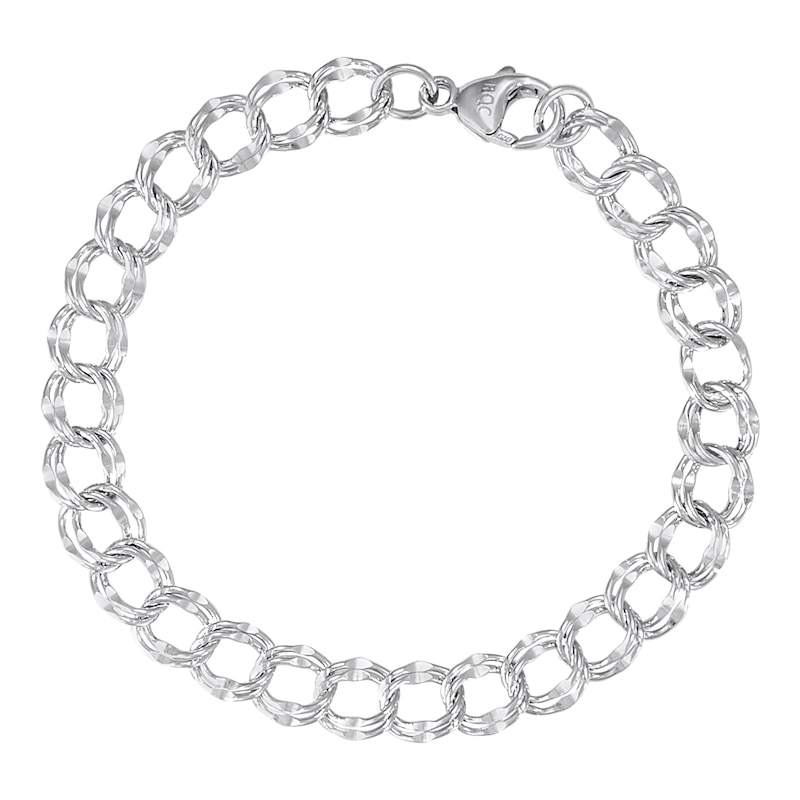 A double link chain features two links, usually curb, cuban or belcher/rolo links, intertwined with the next double link. 
Figaro Chain
Made up of a repeating pattern of two or three shorter curb links and one long link, the Figaro chain style is favoured by men and ladies who want to wear a chain on its own. Available in many different thicknesses, this is an elegant and popular chain. The pattern of uniform links of squarer curbs with regular, rectangular links makes a nice pattern.
Buy on Amazon
Foxtail Chain (Franco Chain)
The foxtail link chain, also called a franco chain, features links connected at a 45-degree angle to each other and connected in the centre with a concealed flat link. The result is a round, smooth chain. This style of chain makes a bold statement and looks particularly good as a silver chain with oxidation within the pattern. 
Favoured in bracelets worn with charm beads, such as the Trollbeads bracelet (featured below), or in necklaces like this one, it looks good and is easy to wear. 
Heart Link Chain
A chain made out of open-heart links, this chain looks pretty and is a great bracelet or anklet option for those with smaller wrists or ankles as the catch can be connected at any point along the chain. This is more of a fashion style and worn on its own – not for pendant necklaces. 
Herringbone Link Chain
Resembling a flat snake chain, the herringbone pattern cahin necklace or bracelet will often be visually effective enough to wear on its own. Smooth and tactile, the herringbone chain is a lovely chain.
​Omega Chain
With it's oval shaped profile the links in an Omega chain the round links are stacked next to each other tightly so they always keep their oval shape. The result is its creates ultra-smooth and tactile, fairly stiff chain necklaces or bracelets with a high shine.
Because it used a lot of metal in its construction, the omega chain, whether is silver or gold, is often pricier than other chains. This style can be more vulnerable to kinking if bent (a little like the snake chain and herrigbone link which have a similar pattern of the links being pushed close together). 
These three different types of necklace chains use similar techniques in being made but each creates a slightly different shapes.
Panther Chain or Mesh Chain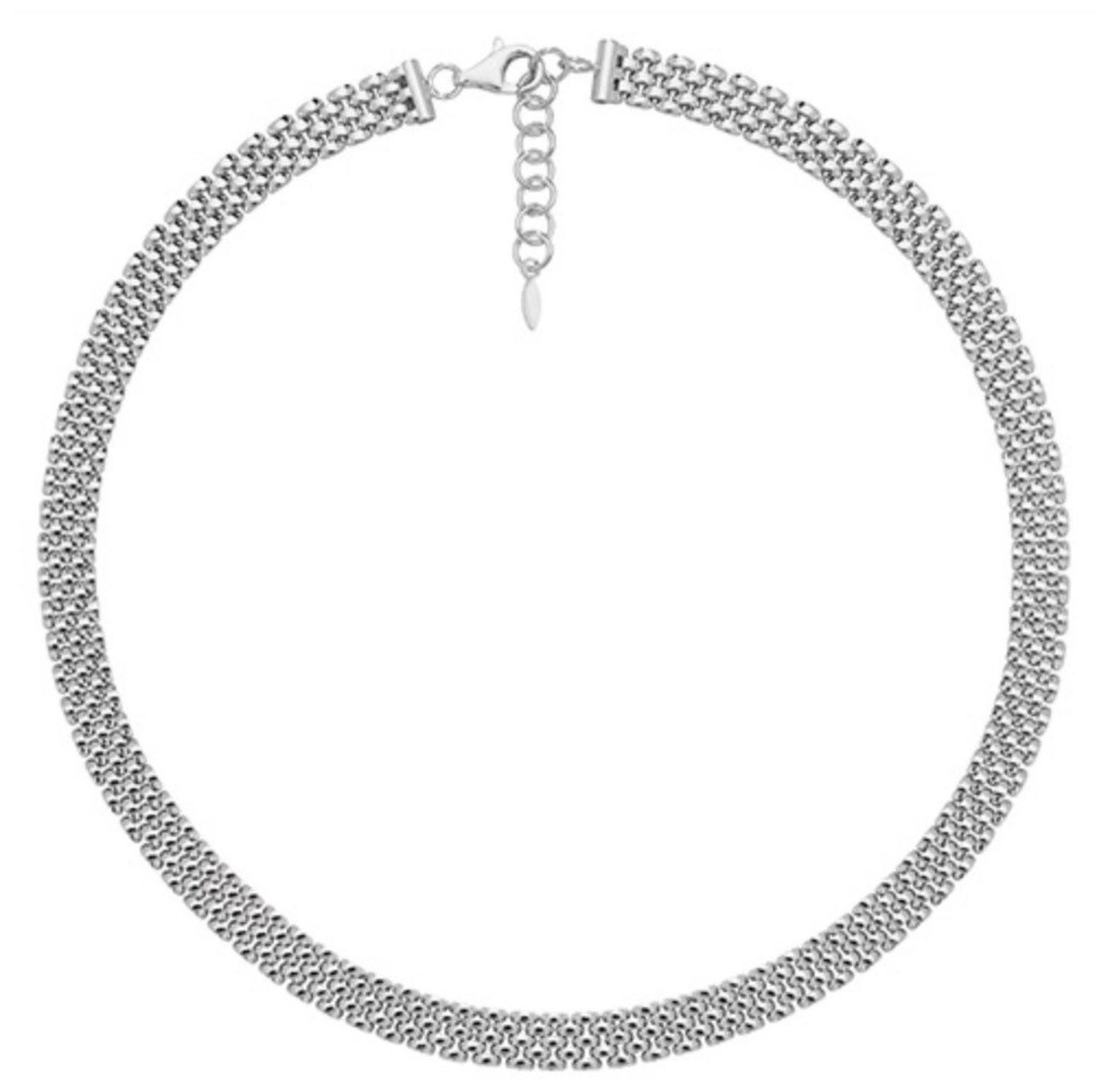 The panther link chain has a brick-like design making a flat chain with patterns of three and four links offset against each other and connected by a pin or vertical bar.  Bracelets like this one here not only look fabulous but feel fabulous too as they are so smooth to the touch.
Paperclip Chain
This fabulous new kid on the block has become quite a hit. The links can be rounded or squared at the edges and are available in lots of weights and lengths. Suitable for both men and ladies this is another versatile chain.
Popcorn
 Forming an oval chain, hollow rounded links form a tube, giving the appearance of pieces of popcorn. This chain is lightweight and pretty and are decorative enough to be a centrepiece. Available in a variety of sizes, you can see finer more solid designs used in bangles. 
Rope
One of the most popular chains, worn alone or with a pendant, the rope chain is formed by two or three lightweight small links joined to form a twisted chain, like a rope. Most rope chains are hollow therefore are lighter than other chains. With a rope chain you get a lot of chain for your money. However the disadvantage is that they may not be as long-lasting as some solid larger link chains. 
Singapore Twist Chain
The Singapore twist is, in our opinion, one of the prettiest of chains. A series of double links, flattened and interlinked, with the chain twisted along its length. This creates the most beautiful, sparkly effect as it gently rotates a little when worn, thereby catching the light.
These chains are often worn with a pendant but these look equally good worn on their own. A gold or silver Singapore twist chain is worn as a choker or sitting in the dip of the neck has a really beautiful look.
The Singapore chain makes a lovely anklet, as it sparkles as you move. 
Snake Chain (or Brazilian)
The lovely snake chain, also known as a brazilian chain, that most of us are familiar with, is made up of articulated links laid along side each other with a slight kink in the middle of each of the links. This form a smooth and silky, continuous tube. With a brightly polished look, these chains look great with a pendant. Snake chains won't bend as readily as other chain links so you do have to ensure it won't get bent or it may kink. 
They aren't as supple and bendy as a curb chain, so will kink and even break if bent too far.
Spiga or Wheat Chain
"Espiga" is the Spanish name for 'wheat'. Made of figure-of-eight links that are interlocked to form a tube, the chain looks great and is favoured by men (as well as women) as the chain looks so good worn on its own. Similar in appearance to a rope chain (above), a wheat chain is made by using four strands of twisted oval links, which are then plaited together. 
You can find wheat chains using finer or large links so there is quite a choice of sizes available. 
Trace Chain
Thin, usually 2 – 2.5 mm wide or less, interlocking oval links make up this chain which looks simple and uncluttered with a pendant and is the perfect chain for a layered look.
Wheat (See Spiga)
To Sum up…
There is such a wide variety of styles of chain links used in necklace chains, but the ones we have discussed here are the most popular and worn designs. We hope this gives you adequate information in choosing the chain you would like. 
Perhaps first decide on the length and the thickness of chain you desire (is it to be worn with a pendant, or alone)? Then you are already part of the way to there.
If we haven't highlighted the chain you are searching for, please do comment below, describing the chain you are looking for or post an image and we'll try our best to identify it.