Disclosure: *Some of the links on this website are affiliate links. This means that if you click on the links and make a purchase I may earn a small commission at no extra cost to you. As an Amazon Associate, we earn from qualifying purchases. This helps support our small blog.
Pink is one of the prettiest of colours, and what could be prettier than sparkling pink precious or semi-precious gemstones? Yet, you don't see pink gemstone-set jewellery every day. But there are plenty of semi-precious gemstones and a few precious gemstones also.
In this article, we take a look at different gemstones, and how they are most often used, if at all, in jewellery.
The Metaphysical Meaning of Pink Gemstones
Whilst each gemstone has its own meaning attached to that individual stone, pink is often associated with the heart chakra, meaning unconditional love, compassion and acceptance.
Rose Quartz
Perhaps the most well-known of the pink gemstones, rose quartz symbolises universal love, compassion, self-love and empathy. Rose Quartz is often carried, held or placed near the body as crystals, although it can also be set into jewellery. It is an opaque gemstone in a medium-pink colour.
Pink Sapphire
Sapphires come in a variety of colours, not just the more well-known blue variety. Pink sapphire is a much-loved precious stone and can be seen set in white gold as well as yellow gold. Pink sapphire looks particularly beautiful set in white gold alongside diamonds. Pink sapphires are translucent and are an even pink colour it is a very feminine-looking pink gemstone and suits delicate, pretty pieces.
Morganite
An up-and-coming, exquisite dusky-pink to salmon-coloured stone, Morganite is very sought after and makes stunning pieces of jewellery. It is a delicate colour and is a very feminine precious stone, deeply flattering to all who wear it.
Pink Diamonds
Pink Diamonds are extremely rare and often have a hint of blush colour to them. Absolutely delectable when you can find them, although they are very expensive.
Pink Tourmaline
Tourmaline is another gemstone that appears in many different colours, including pink. It is often a rich, red-pink colour but can occur in browner tones. Translucent it looks great, is hard and is perfect in all jewellery including rings which are worn every day.
Rhodolite Garnet
Rhodolite is a rosy-red pink colour and makes strikingly beautiful pieces of jewellery. Rhodolite is a very affordable gemstone and a great choice in gem-set jewellery as it is hard-wearing and looks striking against silver or gold precious metals.
Pink Spinel
Spinel occurs in many colours as well as pink.
Pink Pearls
The beautiful and very delicate colour of pink pearls is feminine, innocent and very pretty.
Mother of Pearl
A lovely pale pink colour, pink mother of pearl gives a beautiful sheen.
Pink Jadeite
Pink jade is another gorgeous pink gemstone. Jade is most commonly found in green but it can also be found in pink. In a beautiful full pink colour, it is an opaque stone. Quite soft, it should only really be worn as a pendant, bracelet or earrings.
Pink Zircon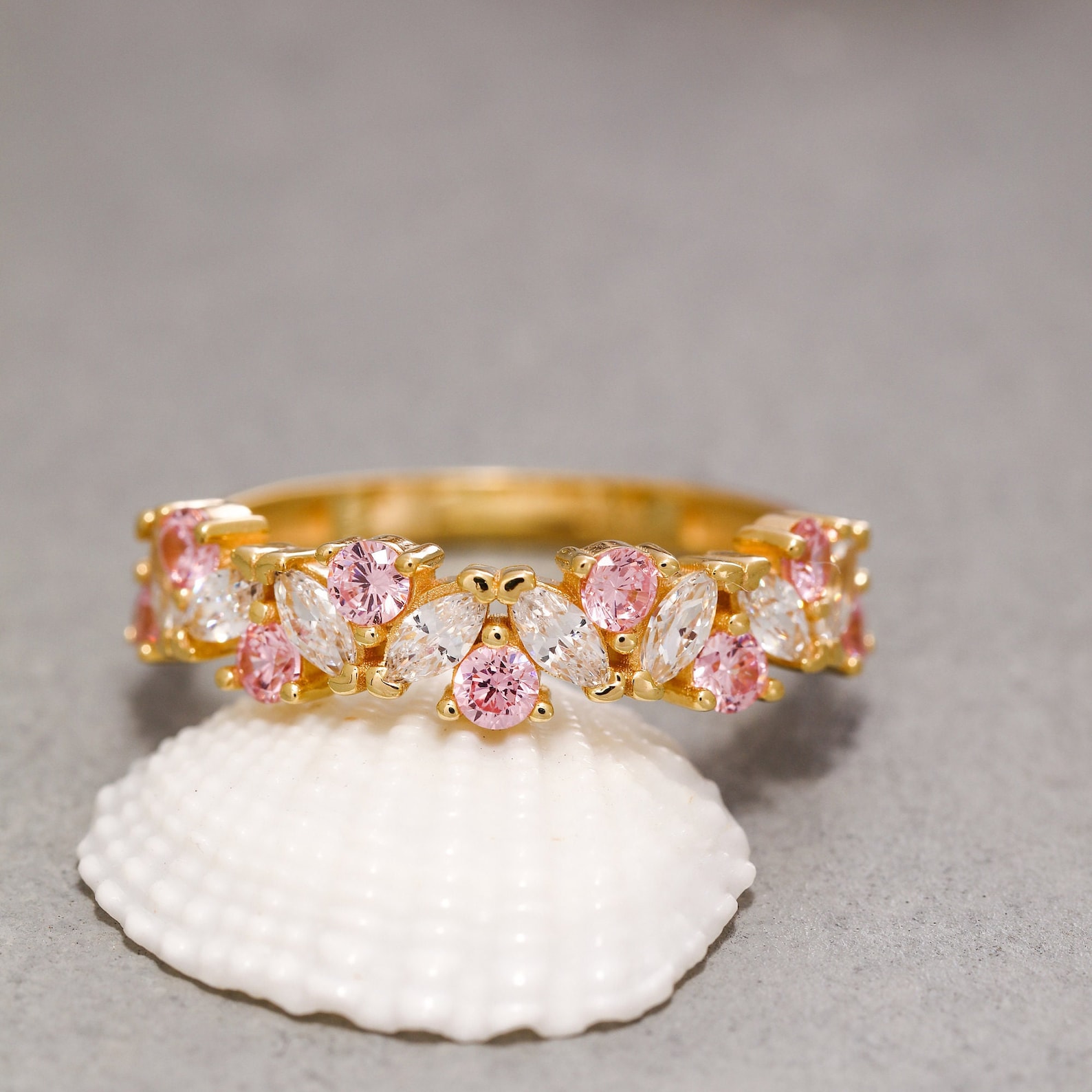 With its translucent, pale pink colour, a hardness that means it can be worn in any jewellery item without fear of being easily scratched or chipped, and a wonderful sparkle, zircon makes a good choice, particularly for rings if you are looking for a ring with a pink gemstone.
Pink Opal
Opals are opaque and pink opals are a soft, gentle pink colour and so very flattering to all. They are often cut and polished as cabochons and make great focal points in jewellery pieces.
Star Ruby
Coral
Another opaque pink gemstone, coral appears as a salmon-pink colour and makes eye-catching, statement pieces of jewellery.
Pink Kunzite
Rhodochrosite
Rhodochrosite is a lovely soft pink, opaque gemstone which is a relatively soft semi-precious stone and should really only be used in earrings or as a pendant
To Sum Up …
Considering you don't see a huge amount of pink gemstones set into jewellery, compared to other colours like blue, white, purple or even black gemstones, there are a huge array of beautiful pink gemstones to choose from. If you do go for a pink gemstone maybe split your choice into opaque or translucent and narrow it down that way.