Disclosure: *Some of the links on this website are affiliate links. This means that if you click on the links and make a purchase I may earn a small commission at no extra cost to you. As an Amazon Associate, we earn from qualifying purchases. This helps support our small blog.
With a beautiful variety of shades of colours and degrees of opacity, there are some stunning green gemstones used in jewellery-making today. There is definitely something for everyone.
Perhaps the most well-known green gemstone is emerald but, in this article, we'll list a few more, some of which you'll have heard of and some you may not know about, including a magical colour-changing precious gemstone.
The Meaning of Green Gemstones
Whether you just love the colour of green gemstones or believe in the metaphysical meaning of wearing a green stone, the colour green, metaphysically, corresponds to the heart chakra and is believed to assist in mending a broken heart or finding love.
Green is calming and grounding just like being out in nature does for us. It can assist in the renewal of energy. As well as being reenergizing,
Carrying green gemstones with you is believed to bring luck and good fortune and prosperity and success.
Emerald
Probably the best-known green gemstone and the birthstone for May, Emerald is a rich, green colour reminiscent of the bright, green fields of Ireland, hence Ireland is known as the "Emerald Isle".
We have dedicated a whole article to this fascinating gemstone, Emerald which you can read here.
Emerald is the anniversary stone for the 20th and 35th Wedding Anniversary and so is a popular gift on these anniversaries.
With a Mohs hardness factor of 7.5 to 8, it is a hardy gemstone and so suitable for everyday wear, although it can be susceptible to splitting.
Emerald is known to have many fissures and inclusions so a bright, clear one is rare.
Known as a symbol of life and fertility.
Famous celebrities such as Elizabeth Taylor and Cleopatra favoured emeralds.
Jade
Revered since ancient times, particularly in China, most people think of the colour green when the word Jade is mentioned, although jade does occur in other colours such as pink. Jade is normally set as cabochons in jewellery and is rarely faceted. It has a lovely smooth, milky green appearance that makes it very tactile. The marcasite surrounding the oval jade stone above accentuates it beautifully.
Aventurine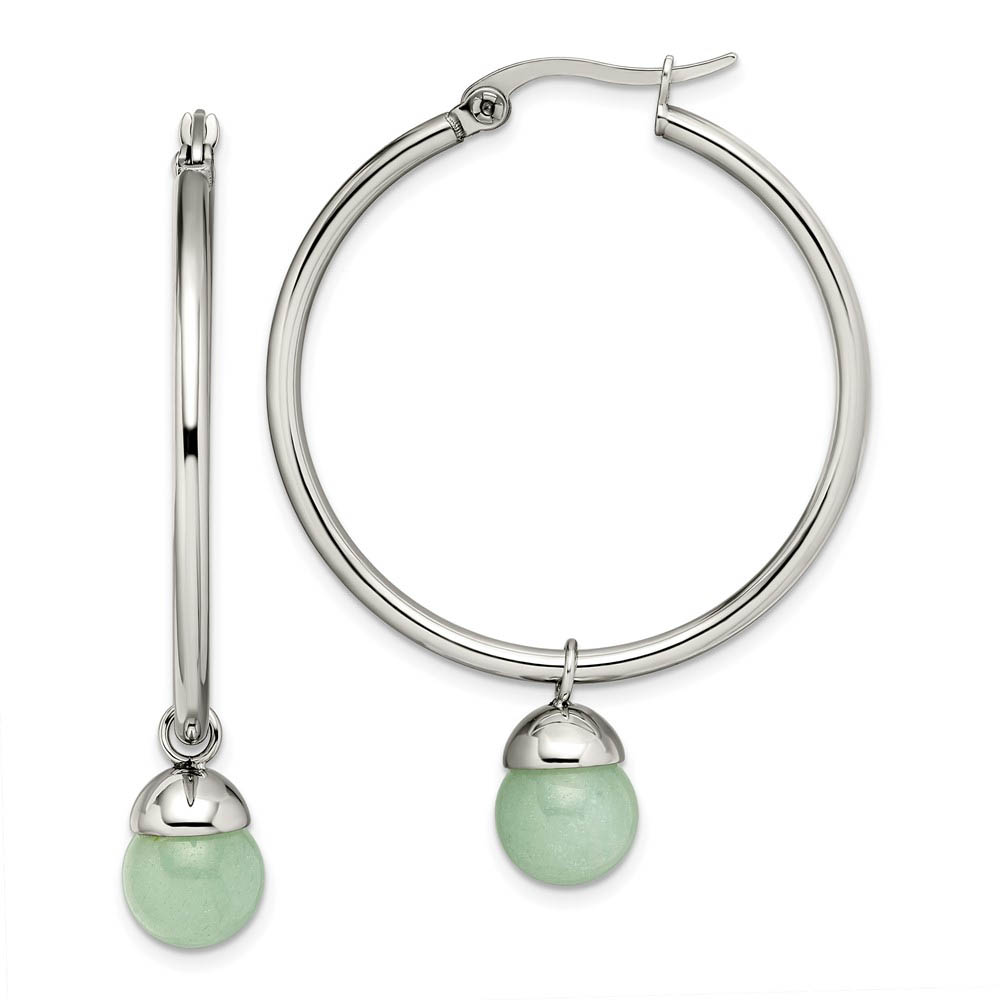 Green Aventurine Bead Round Hoop Earrings in Stainless Steel – 35mm
from:
Black Bow Jewelry Co.
Aventurine has an appearance much like jade, and is often cut and polished as cabochons, also like jade, although it can appear in other colours other than green. Unique to aventurine are tiny impurities that appear as glittery flakes within the gemstone, called aventurescence.
Malachite
Malachite is the most fascinating and beautiful, semi-precious green gemstone. With bands or veins of varying degrees of soft green, the green is a rich, deep opaque colour.
Malachite is a relatively soft gemstone and does not suit items with high wear and tear.
Green Flourite
Flourite it available in many different colours including blue and purple, as talked about in our other blogs on the blue and purple gemstones used in jewellery. Called "the most colourful mineral in the world" as it appears in many different colours depending on the composition of the rocks in which it forms.
Green flourite is a lovely delicate shade of green, much like green amethyst and it would be easy to confuse the two. Green flourite gemstones looks wonderful set in gold jewellery, as these earrings demonstrate so beautifully.
Amazonite
In a lighter green colour than malachite, but with soft white and green veins, Amazonite can also appear in rich, dark green colours. It is an affordable semi-precious green gemstone and looks lovely set into silver as displayed in the earrings above.
Alexandrite
This is a most fascinating green gemstone! It is fascinating because it's not just green! Alexandrite is a colour changing precious stone that changes colour from green to pink-red-purple colour, depending on the light.
It was discovered in Russia, supposedly on the Alexander II, the Tsar of Russia's, birthday – hence its name, Alexandrite. The miners who discovered it thought it was emerald and took it back to camp only to see that, when they looked at the gemstones by the firelight, the stones appeared red-purple! The following morning, in daylight, the gemstones appeared green again. It was then that the miners realised that they hadn't unearthed emerald at all but a newly discovered gemstone.
Alexandrite quickly became hugely popular with aristocrats and the wealthy and was subsequently depleted in the area of Russia in which it was originally discovered.
There are now many lab-grown versions of Alexandrite but genuine Alexandrite jewellery can still be found, as in the pendant shown above.
Peridot
Peridot, with its distinctive vivid, clear green colour, is the birthstone for August and has become more popular all year round in recent years. A piece of jewellery with peridot is a popular birthstone gift idea for August.
The fresh, clean colour of peridot is stunning set in either white or yellow metal and is a strong, hard-wearing green gemstone, so is very versatile when used in jewellery making.
Green Diamond
One of the rarest coloured diamonds is green and, consequently, they can be pricey. Formed deep in the earth, a few carbon atoms are displaced and this means the red and blue light is absorbed, thereby throwing out the green colour.
Green Amethyst (Prasiolite) or Green Quartz
A beautiful, transparent green gemstone in a light, pale green colour – read our blog on this semi-precious gemstone here. This gemstone looks beautiful set in either silver or gold, although it appears set in gold jewellery more often. Our customers love the unique pieces of jewellery set with green amethyst, they are something different without being whacky or fringe. They love the delicately-coloured green of this gorgeous stone.
Green amethyst pieces are normally flattering to any skin tone and, at the same time, offer something a little bit different from the norm.
Watermelon Tourmaline
With a pink centre and green periphery, these gemstones really do look like a delicious slice of fresh watermelon. The colours occur when it is being formed as new layers of the crystal are laid down happen to be exposed to different elements, thereby changing the physical property of the gemstone slightly.
The pink centre gradually changes to light green with a deeper green "rind", just like a watermelon. First discovered in 1902 in Maine, in the United States, it has also been discovered in Brazil.
Moss Agate
Beautiful Moss Agate is a semi-precious gemstone with dendritic strands which look just like pieces of moss, as its name implies. Of course, this makes each and every Moss Agate gemstone totally unique. The green of this gemstone is earthy and rich, very much reminiscent of nature and woodlands, unlike some of the lighter green gemstones like peridot.
Regarding the metaphysical properties attributed to Moss Agate, it is said to calm energies and help you remain grounded when all around you is drama or conflict.
Bloodstone
Bloodstone is a deep green gemstone that has splashes or mottling of deepest red, hence its name bloodstone. It was also known as Sandstone.
Bloodstone was believed by the ancient people to have formed at Christ's feet and formed as he lay dying on the cross, dripping blood on a jasper stone on the ground.
Bloodstone was believed to help purify the blood and was used for those who were involved in conflict or battles to enable them to defeat their enemy.
Chrysophrase
Chrysoprase is an opaque, glossy-looking bright green gemstone, a little like jade and amazonite. We love it as in these earrings above, where it is teamed up with the beautiful purple gemstones of amethyst.
Said to connect us with our inner child, our connection with nature and prosperity.
To Sum Up …
With the huge array of different colours of green gemstones, they look beautiful set in any precious metal whether it be silver, gold or platinum. Green gemstones have a range of tones of green that means there will always be a green stone to suit any skin tone or taste, whether light or dark green, with warm or cool tones.
The metaphysical meanings attributed to some of the green gemstones are very attractive too and add to their appeal.