Disclosure: *Some of the links on this website are affiliate links. This means that if you click on the links and make a purchase I may earn a small commission at no extra cost to you. As an Amazon Associate, we earn from qualifying purchases. This helps support our small blog.
Locket necklaces are always a firm favourite in jewelry gift purchases that we thought we'd look at some of the best silver lockets we could find and showcase them in a single post.
If you are looking for gold lockets, we have done a similar blog post on the best gold lockets we could find here. 
The locket is a traditional jewellery item has stood the test of time and gets reinvented in many modern and beautiful ways. This means all ages love to wear locket pendants.
Traditionally, locket necklaces were given at milestone events such as christenings, birthdays, proms or anniversaries. They make a thoughtful jewelry gift and are a very touching jewelry present as they hold special meaning for the recipient.
They often hang from necklace chains with a fairly simple, small links although there is no reason why you can't hang a locket from a fancier link necklace.
Take a look at the best silver lockets we have come across, to suit all tastes and price ranges.
Silver Lockets
Opening Rose Flower Locket
Absolutely exquisite to look at, these kinetic lockets are made in silver and gold and are intricately detailed, with each petal crafted and formed and assembled by hand in such a way that, with a twist, open to reveal the rose flower inside – just like the real flower. Many more flowers are available all of which have been studied by the designer so they open just like the real flower. A locket that will become an heirloom and treasured forever.
Silver Malachite Heart Locket (Engravable)
The rich green malachite stone has been inlaid into the front of this silver heart locket which can be engraved with a message of your choice.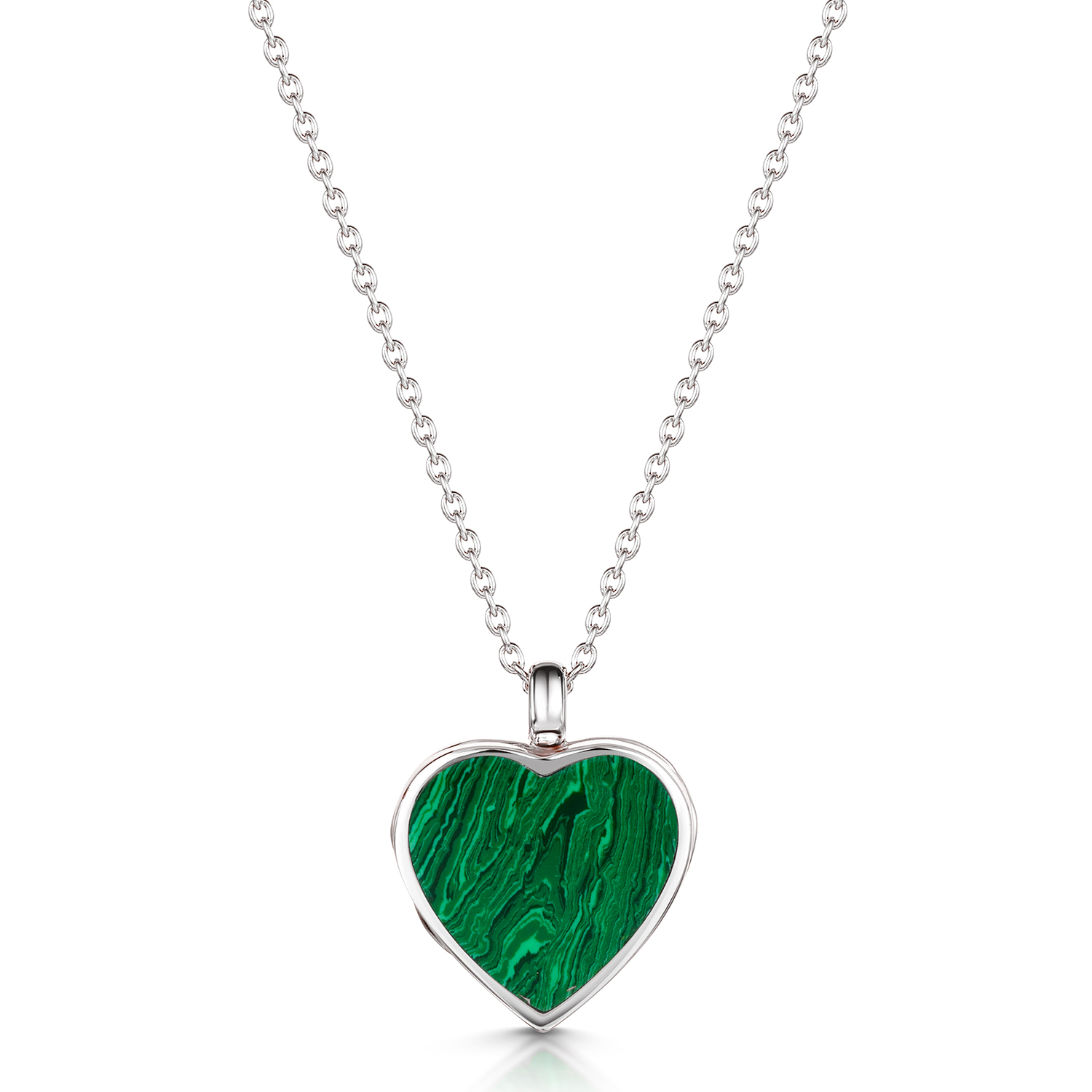 Silver Locket Bracelet
With a stunning double chain – a twisted rope chain and a bobble station chain – and a locket charm to hold two precious photographs, this locket can also be engraved with a message of your choice.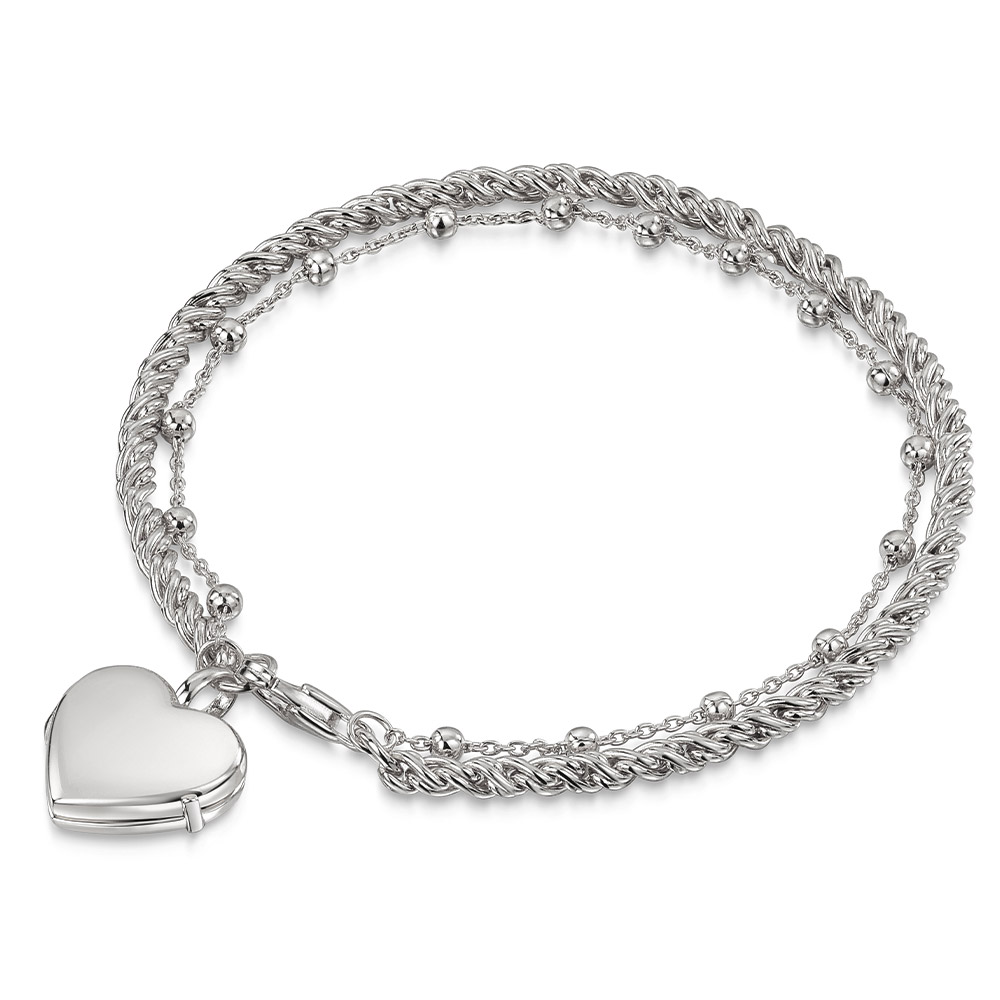 Silver Heart Locket Bracelet – Engravers Guild
Silver Pebble Locket
Beautifully feminine, in pink mother of pearl surrounded by diamonds and multi-coloured dazzling sapphires, this heart shaped locket will open to hold your precious photographs. The locket hangs from an oval-linked belcher chain.
North Star Locket
The fabulous Polaris North Star locket, from Astley Clarke, is available in four different finishes (three are shown below) has a contemporary feel and is set with shimmering white sapphire stones with either an abalone, white mother of pearl or onyx-set front. The back can be engraved with a message of your choice.
Polaris North Star Lockets – Astley Clarke
Silver Bird Heart Locket
This stunning handmade silver locket features a cacophony of birds including a toucan, an eagle, a hummingbird, and peacock amongst other birds. Crafted in Mexican silver, the back is plain should you want to add engraving at a later date. This is a locket which will be treasured for a lifetime.
White Sapphire Angel Wings Locket
With lab-created white sapphires shimmering in this heart-shaped silver locket, textured "feathers" in sterling silver, this lovely locket is sure to be treasured.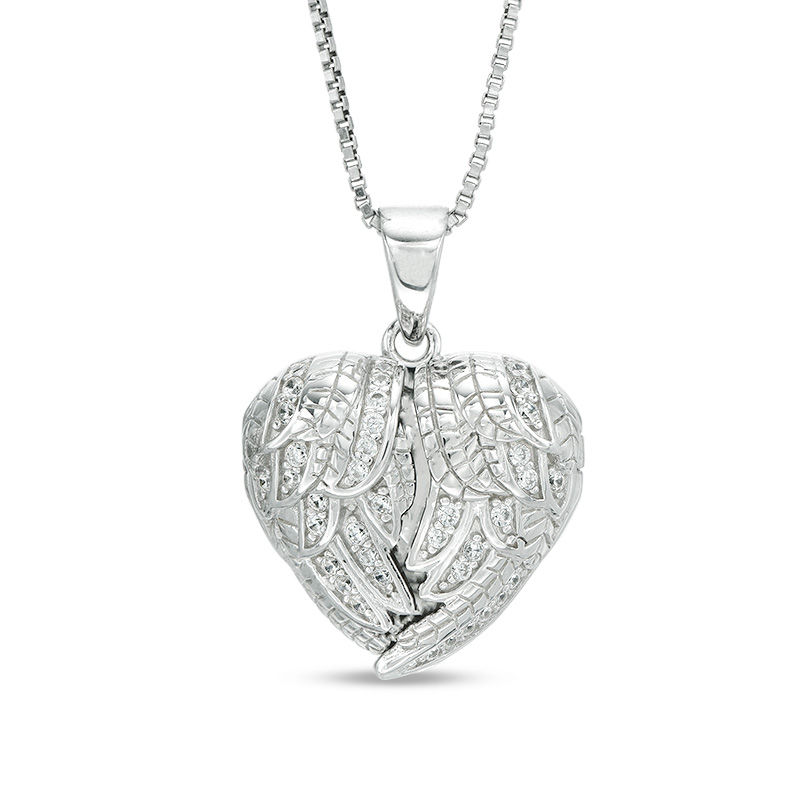 Sculpted Silver Locket
An unusual design yet not too "out there", this beautiful silver locket has sculpted waves stretching diagonally across the locket in an organic way like the ripples waves make on the sand.
'Princess Diana' Locket with Sapphire
Crafted in 925 sterling silver and containing rare Welsh gold, this pretty locket has a real sapphire gemstone and white topaz stones. Its inspiration comes from the late Princess Diana's engagement ring, given to her by Prince Charles, now King, and later given to The Duchess of Cambridge by Prince William on their engagement.
Memory Keeper Locket
This stunning silver locket opens to reveal six photographs of your choice (Lily Blanche who make these lockets will print out your photographs and fit them for you!). This is an heirloom piece and is sure to be treasured.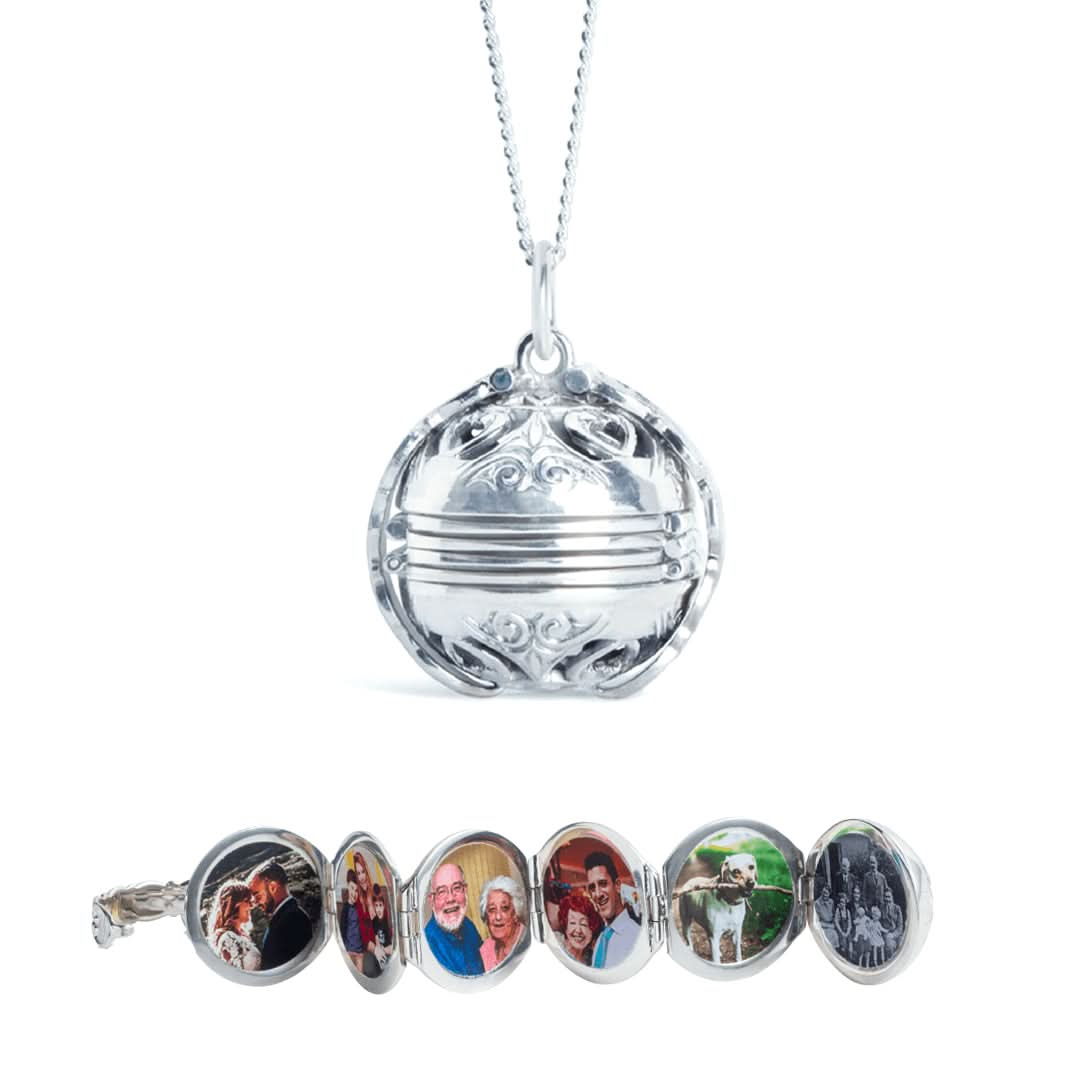 "Footprints" Locket with Diamond
A touching and meaningful silver locket with footprints on the front in which a diamond has been set, whilst the back of the locket has the words, "it was then that I carried you".

Footprints and Diamond Star Oval Locket in Sterling Silver – Black Bow
Diamonfire Ornate Locket with CZ's
Another filigree-style silver locket, this one has scrolls of silver set with eight brilliant-cut zirconia's, and another on the scrolling bale, giving just the right amount of sparkle. In a lovely round shape, this locket has a vintage feel to it.
Silver Glass Locket for Charms and Birthstones
A modern take on a timeless classic, this glass locket has space to add birthstones and initials of your choice or real dried flowers. With the dried flowers, a process is used to dry the flowers in such a way that they will keep their colour and vibrancy as they were when fresh.
Silver Oval Locket
This beautiful oval-shaped sterling silver locket is highly polished and 19mm in length and is available with a choice of three different chain lengths. This locket makes a perfect gifting locket as it is a great size to wear with any outfit. It can also be engraved with the message of your choice.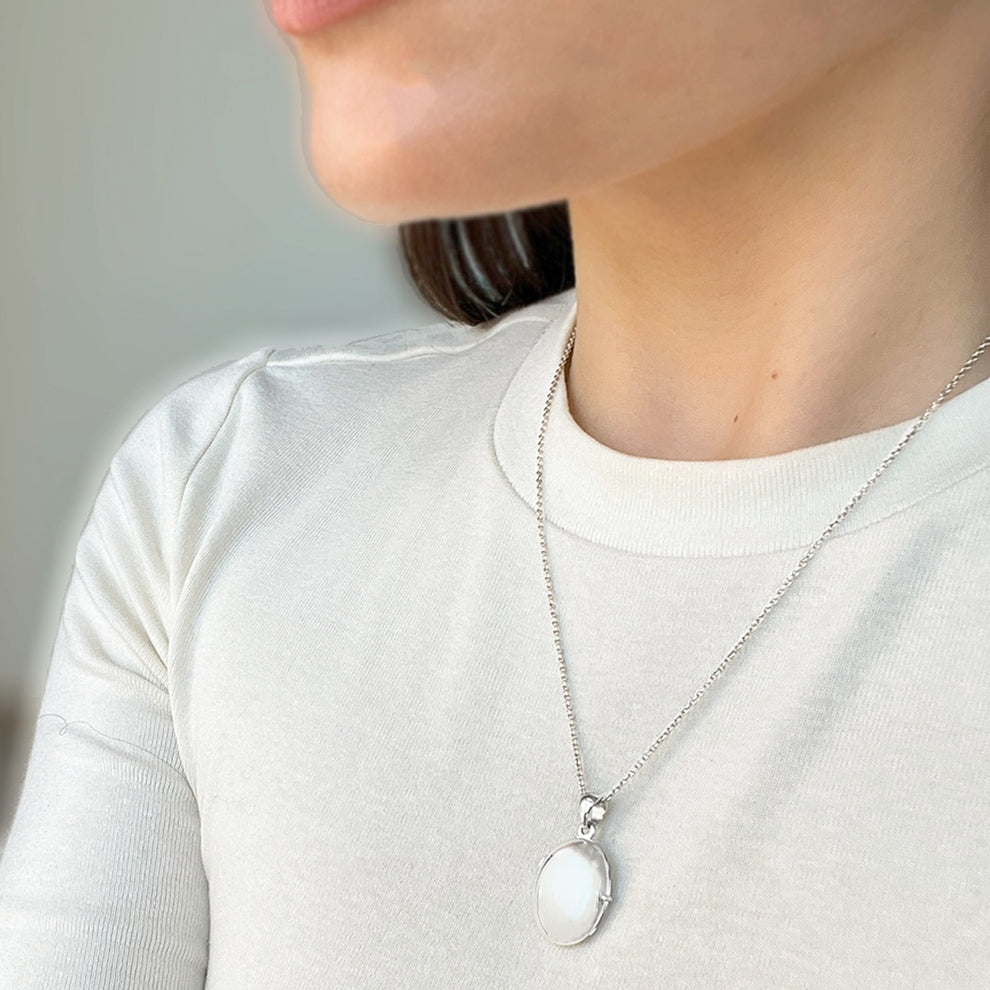 Silver Oval Locket – Hersey & Sons 
Silver Botanical Large Bouquet Necklace
A modern take on a locket necklace, this one has captured the beauty of real flowers between glass. Stunning.
Silver and Welsh Gold Paw Print Locket
This delightful and playful silver locket has rare Welsh gold in the shape of a part of an animals paw print delicately raised on the surface of the heart-shaped locket. It is a beautiful reminder of a much-loved pet.
Silver & Welsh Gold Paw Print Locket – Carathea
To Sum Up …
We hope this has given you a few ideas from the wonderful choice of silver lockets on the market. If there are any that we've missed that you think should be included in this article, please do let us know – we're always open to suggestions.