Disclosure: *Some of the links on this website are affiliate links. This means that if you click on the links and make a purchase I may earn a small commission at no extra cost to you. As an Amazon Associate, we earn from qualifying purchases. This helps support our small blog.
If you don't already own a pair (or more!) of huggies earrings you don't know what your missing! A perfect cross between stud and drop, neater than a hoop plus there is a huge choice available for any occasion and outfit, smart or casual.
Huggies are hugely popular types of hoop earrings (if you want to know exactly what they are and how the differ from "hoops" read our article here).
Here we've gathered, what we think, are the best huggie earrings available today.
Try them, you won't regret it.
Best Huggie Earrings
Silver Siren Muse Mini Huggie Earrings
With a gorgeous polished, textured look these silver earrings are also available in 18k gold vermeil. At 9mm wide, these fabulous earrings will hug your ear lobe beautifully.
White Gold Amethyst Huggies
Amethyst, the birthstone for February, is still one of the most popular gemstones all the year around. These 9ct white gold huggies have channel set amethyst stones, giving a neat, unfrilly look perfect for those who love minimalist styles.
9ct Gold Diamond Set
These fabulously unique huggies from Otiumberg are each set with diamond but in an individual style.
Silver Slim Huggies with Cubic Zirconia
A pair of small, slim huggies set with sparkling cubic zirconia, these sterling silver earrings can be worn with all outfits.
Pandora Silver Pavé Heart Huggies
With a slightly oxidised, vintage look and cut out hearts around the side of the hoops allowing more light behind the cubic zirconia's to sparkle away, these hoops will make a lovely gift for a sister, mother or girlfriend.
Baroque Pearl Huggie Earrings
In 18k gold vermeil (gold on silver) and a fabulous white baroque pearl dangle these perfect huggie earrings are suitable for any age and any outfit.
18ct Gold Diamond and Spinel Tulip Huggies
These luxurious huggies are crafted in 18ct gold and have little tulip charm dangles with a central spinal tassel. The huggie hoops have been set with diamonds.
Silver Celestial Mini Star Huggie Hoop Earrings
This pretty little huggie hoop earrings have little star cut outs, set with sparking white sapphire's and sparkle just like a star-studded sky.
9ct White Gold Mini Diamond Interstellar Huggies
Diamonds, clustered together in a 9ct white gold hoop will add a touch of elegance to any look and add a lovely sparkle to your ears.
18k Gold Vermiel Alta Huggie Earrings
The sublime warmth of 18k gold vermeil matches the sophistication of these squared huggie hoop earrings. These earrings will look fabulous during the day or dressed up for an evening out.
Molten Silver Small Huggies
A pair of small huggies in solid silver with a "molten" look, catching the light as you move. Perfect for stacking, they will hug the lobes beautifully.
Molten Silver Small Huggies – Lily & Roo
10ct White Gold 1/8 ct Diamond Heart Huggie Hoop
These diamond-encrusted open heart charms hange from diamond-set huggie hoops and are simply divine.
10ct White Gold 1/8ct Diamond Heart Charm Huggie Hoops – Fred Meyer
Silver and CZ Double Huggie Earrings
Available in silver or gold vermeil, these fabulous double huggies highlight the ears so nicely. They can be worn in any piercing.
Silver Double Huggie Hoop Earrings – Muru Jewellery
Adria Creola Piccolo Huggie Earrings
In 18ct gold plated silver and set with such pretty colours of cubic zirconia's and freshwater pearls.
Small Platinum Huggie Earrings

A beautifully simple and elegant design, these small huggies are in polished platinum.
Gold Huggies with Baguette CZ
Crafted in 9ct gold these huggies have been set with baguette cubic zirconia's. With an open back they allow plenty of light to shine through the stones and are lightweight and easy to wear.
18k Gold Sapphire Huggie Hoop Earrings
Available in a range of gemstones these exquisite 18k yellow gold huggies features shimmering sapphires, from Annoushka. Who doesn't love sapphires?
Silver or Gold Vermeil Beaded Huggies with CZ
With a single, sparkly cubic zirconia set in the front of theses small huggies which have a wonderful beaded design, these little huggies look fabulous with smart or casual wear.
14ct Gold Wide Huggies with Diamonds
Sparkling diamonds twinkle on a wide band of solid gold huggies from Brilliant Earth.
Small Silver Huggie with Pavé Diamonds
A simple design and a worthy contender in the best huggie earrings list, these small huggies in silve are set with little diamonds offering a hint of sparkle.
Silver Glow Huggie Hoops
With a baguette cut cubic zirconia stone hanging from these dainty little huggie hoops, these earrings will go with any outfit and is perfect for those who love layering and delicate pieces.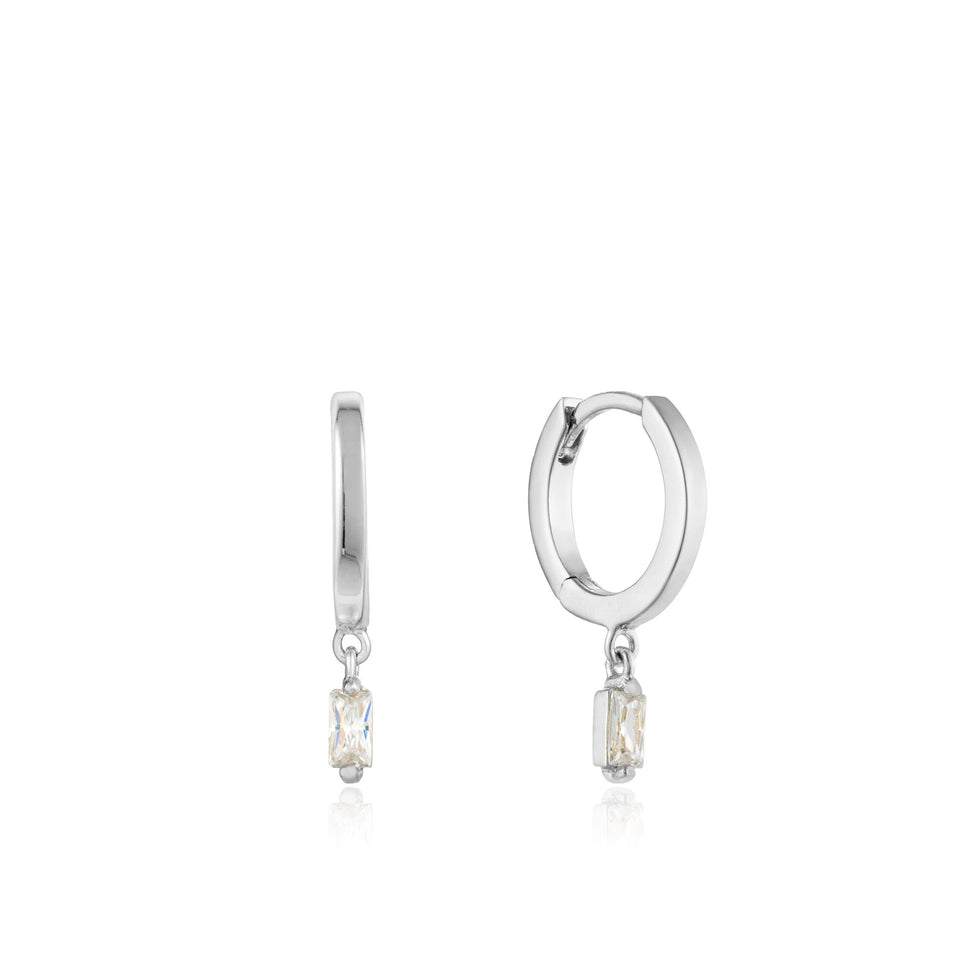 Silver Moissonite Huggie Hoop Earrings

Add a little sparkle to your ears with these silver moissonite huggie hoops. They will suit any outfit, hug the ear beautifully and have a good sized stone for brightening up any outfit.
Gold Huggies with Diamond Cut Diagonal Pattern
Simple but effective, these huggie earrings are made in solid 9ct gold but have a diagonal detailing on the surface.
Silver Huggie Earrings with CZ Edges
With a fabulous openwork leaf design and cubic zirconia edges, these unique huggies don't look heavy and offer a hint of sparkle. Also available in gold vermeil, from Carathea, we think these are right up. there with the best huggie earrings.
Caro Creolo Huggies
Available in either sterling silver, or gold plated sterling silver like this one, these delicate little huggies have a pave-set white cubic zirconia-set heart charm which is detachable. Pretty enough for formal wear but easy to wear with casual wear also, they epitomise adaptability.
Caro Creolo Huggies – SIF Jacobs
Multi Coloured Sapphire Huggie Earrings
Multi coloured sapphires adorn these gold huggies in a bezel setting. Perfect for any outfit.
Silver Huggies with Blue Crystal
With a diagonal crystal charm in Montana blue dangling from highly polished silver huggies, these offer a little bit of colour to any outfit.
Welsh Gold "Vines of Life" Huggies with Diamond or White Topaz
Available in either 9ct gold with rare Welsh gold and set with a diamond or in sterling silver with Welsh gold and set with white topaz gemstone, these luxurious huggies will be a treasured addition to any jewellery collection.
9ct Wide Huggies
With an easy hinged fitting and clicker closure these wide polished solid gold huggies are the perfect, go-to earrings.
Silver Huggies with Bee Charm
Ever-popular in all types of jewellery, these gorgeous little bees with sparkling cubic zirconia's to highlight his body add a lovely detail to silver huggies.
Gold Plated Silver Huggies with Pearls
With 18ct gold plating on silver the little huggie earrings have been set with pearl cabochons. Very feminine, these earrings are perfect stacking earrings or can be worn as they are on smaller lobes.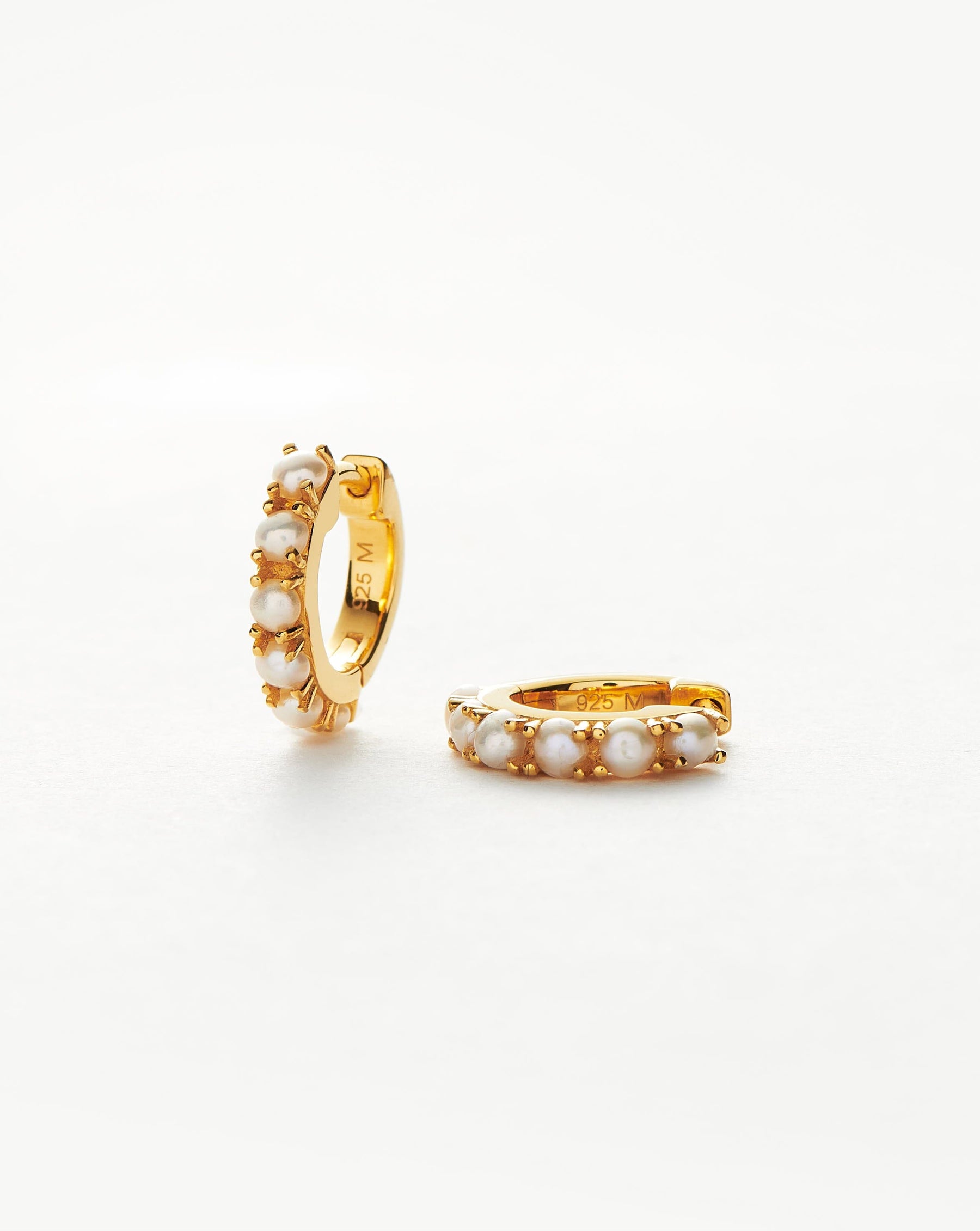 Small 18ct Gold Vermeil Huggies with Pearls – Missoma
Pandora Huggies with Rose Gold CZ Hearts
With lovely off-set heart charm dangles, sparkling with cubic zirconia's, these polished silver hoops are small enough to hug the ears.
Gold on Silver Huggies with Green Crystal
These plain, polished gold plated silver hoops are highlighted with a peridot-green square-cut crystal had to be on our list of the best huggie earrings. The gold and green together look divine.
Siberian Waltz Enamel and Blue Topaz Huggies
To Round It Up …
We hope you agree these are a fabulous collection of huggies, for all tastes and occasions. We'll follow up with an article on the best hoops out there, so if you're looking for something larger than a huggie that may be a good place to look.
Let us know if you've found a pair of huggies that are hard to beat and we'll check them out.