Disclosure: If you purchase an item via the links in this article, we may receive a small commission, at no extra cost to you. As an Amazon Associate, we earn from qualifying purchases. This never affects whether to include the item or not but, in doing so, helps to support our site. 
Stuck For Secret Santa Gift Ideas Again This Year?
Do you ever feel like a bit of a Scrooge when you have to buy a Secret Santa gift for the works Christmas bash?
Are you looking for the perfect Secret Santa gift idea that won't blow the budget?
It's pretty hard to find something worth giving for under £10-£15 ($12-$20) – which is, apparently, the average spend on Secret Santa gifts.
Mastercard did some research and discovered the 18-24 year olds spent nearly £5 more, on average, than their older counterparts. Men, on the whole, think the whole thing is a waste of time and money.
We thought we'd come up with some great gift ideas here, all of which we would love to be gifted. When we selected these Christmas gift ideas, it was important that it would be a gift that would be appreciated and liked.
There are also some great gifts for men towards the end of this article.
As well as making great Secret Santa gifts for ladies (we also have a section of ideas for men), all of these ideas make fabulous stocking fillers! Almost all can be purchased from Amazon or Etsy (bar a few), anywhere in the world.
We've digressed a little from our normal jewellery and watch subjects a little but all of these gifts are items  we'd be happy to give or receive ourselves so feel they'll all suit our readers.
We hope you'll agree we've come up with some GREAT ideas that we're sure your work mates will wish that they were the recipient of your gift!
Secret Santa's and Stocking Filler Ideas
1. Diamond Dazzle Stik
Buy on Amazon
Prime
eligible
Perfect for bringing the sparkle back to not just diamonds but all precious and non-precious gemstones.
These fabulous little sticks come in at under most Secret Santa budgets and are a gift that most people didn't know useful they are.
2. Rose Quartz carved angel
Buy on Amazon
Prime
eligible
We fell in love with some of these fabulous ladies secret santa gifts! If you know the recipient likes her crystals, then this little angel, carved from Rose Quartz is sure to be a hit.
3. silver ball stud earrings
Buy on Amazon
Prime
eligible
These earrings are a core item of any earring collection, in sterling silver and 3mm wide so they can be worn as stacking earrings for those with multiple piercings. You can never have enough ball stud earrings!
4. Jewelry Box
Buy on Amazon
Prime
eligible
This jewelry organizer/jewelry box will never be a wasted gift. Perfect to hold a good selection of rings, earrings and pendants.
5. Silver CZ Earring Stud Earings
Buy on Amazon
Prime
eligible
Simple and easy to wear, cubic zirconia stud earrings will also go with any outfit, whether it's for a more formal occasion or with casual wear.
6. trinket dish painting kit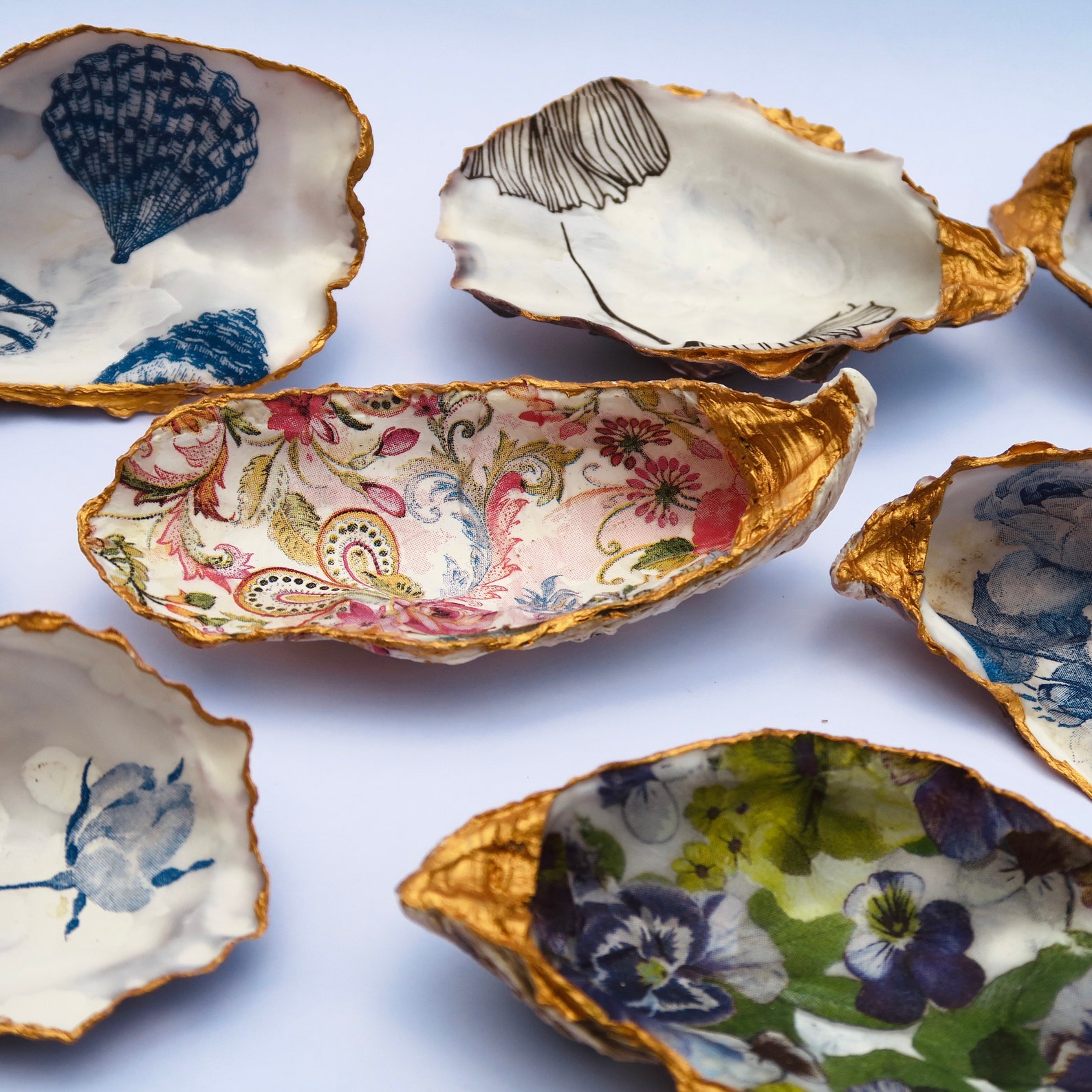 If your recipient is quite artistic you may find something like this fabulous shell trinket dish kit is perfect, with everything needed to make this pretty little dish.
Your friend will love you for this one!
7. Silver chain for pendants
Buy on Amazon
Prime
eligible
A perfect silver chain to wear with pendants, everyone needs a good, strong silver chain at just the right length (18-inches is ideal) to add pendants to.
8. Silver Open Heart studs with CZ
Buy on Amazon
A pair of cubic zirconia set open heart studs in silver will be the go-to pair of earrings for your recipient and make a lovely gift.
9. initial key ring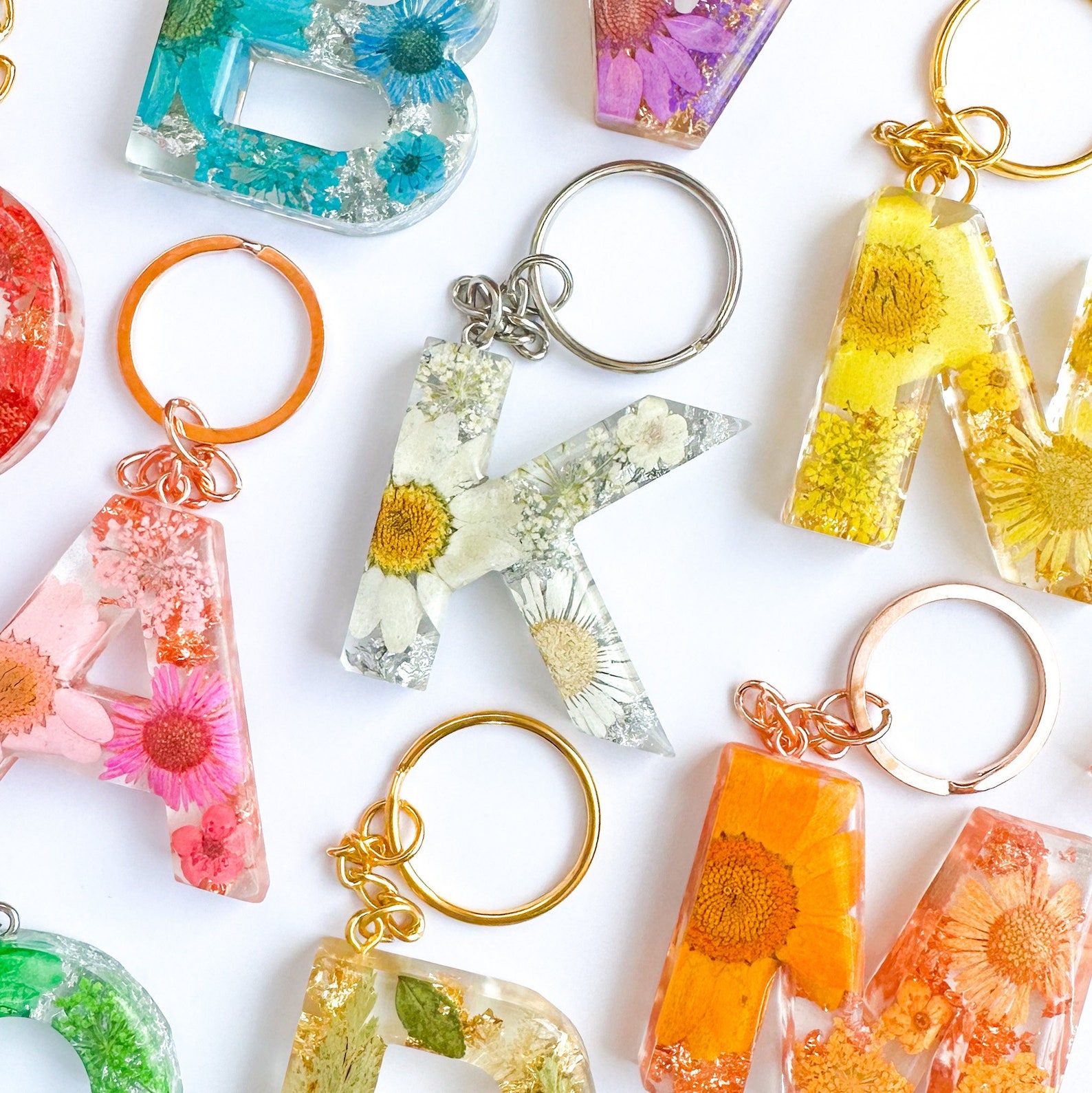 These pretty little hand-made resin initial key rings, with flowers set within the resin. A gift which is sure to be accepted as a thoughtful gift.
10. Silver Hoop earrings
Buy on Amazon
Prime
eligible
A lovely pair of hoop earrings are so easy to wear and comfortable enough you'll forget you're wearing them. They are another jewelry staple and are sure to be well-received.
11. Silver Anklet
Buy on Amazon
Prime
eligible
A sterling silver anklet will make a lovely gift. With lots of designs available, including this one
12. Jewelry cleaning cloth
Buy on Amazon
Prime
eligible
This is such a great present which is also a really useful gift.  This jewellery cleaning cloth is for silver but we also have one for gold here.
13. A little "sparkle" bracelet
Buy on Amazon
Prime
eligible
Another great Secret Santa for women, this "Little Sparkle" silver-plated beaded bracelet comes on its meaning card which reads, "beautifully bright in every way, this little sparkle will brighten your day".
14. Zen Garden Set
Buy on Amazon
A fabulous little gift which should help calm and fascinate in equal measure. We replaced the little plastic plant in ours with a cutting from.a cactus plant which won't need a lot of watering. This kept us amused for ages and we kept being drawn back to it.
15 & 16. Toe Rings
Buy on Amazon
Here are just a few toe rings available under £10/$10 so perfect for Stocking Fillers or Secret Santa's.
17. Lox Secure earring backs
Buy on Amazon
These secure earring backs are a seriously fabulous invention and the receiver of your gift will wonder how she ever managed without them.
We have all lost earring backs – indeed probably plenty of them! – as well as single earrings (and it's always our favorite earrings that we lose). Well this will prevent that from happening again with these LOX earring backs.
You just slide the back onto your earring (they will fit almost every earring you own as they fit 99% of earrings) and the back just "locks" in the place you leave it. To remove, pinch the tabs on the back together and they release easily and slide off.
We use these every day and can vouch for how great they are. You get two pairs in a pot and they come in at under $10/£10.
18. Christmas Fragrance Set
Buy on Amazon
 These wonderful fragrance sets are very naturally scented and not at all like many of the chemical-infused home-fragrance products. We've yet to find one of their fragrances we didn't like, but the Christmas scent will really get you in a Christmassy mood. A fabulous gift anyone would love to get.
19. Wooden hexagram puzzle
Buy on Amazon
Prime
eligible
A great desk puzzle which may help you take a break at work and re-stimulate the creative juices. Easy to part-complete, so you're ready to get back to work again after a short break.
20. Ballpoint Pen with Crystals
Buy on Amazon
Prime
eligible
A sparkly pen makes a lovely Christmas gift as everyone loves a nice pen to write with and you can never have too many pens.
21. Crystal Healing Tumblestone
Buy on Amazon
Prime
eligible
If the receiver of your gift is open enough to be intrigued by crystals, or "crystal healing", then this little back of healing crystals may be just the thing.
22. Clocks Jigsaw Puzzle
Buy on Amazon
Prime
eligible
Jigsaw puzzle's are a great Christmas gift – they can be worked on over the entire Christmas break, even with five minutes at a time and it's so addictive that most people in the household join in, young and old, adding a piece or two.
23. Scratch Off Wall Art World Map
Buy on Amazon
Prime
eligible
A scratch-off travel journal World map wall art, not too big so great for the wall by your desk at work, as your dream away your next travel destination. A nice gift for either sex.
Men's Secret Santa Gifts
Here are a few ideas for a mens Secret Santa.
24. Suction Knife Sharpener
Buy on Amazon
Prime
eligible
The description says it all! This fabulous knife sharpener does everything it says it does. Ours gets used regularly and we know from our male customers who say that one of their best presents ever was a set of kitchen knives – so this will go down well as a great addition. This fabulous Secret Santa mens gift will help them keep kitchen knife sharp for when they cook.
25. Stainless Steel Gear cufflink
Buy on Amazon
Prime
eligible
These stainless steel cufflinks will keep anyone fascinated, even if the gears don't actually move.
26. Personalized leather key chain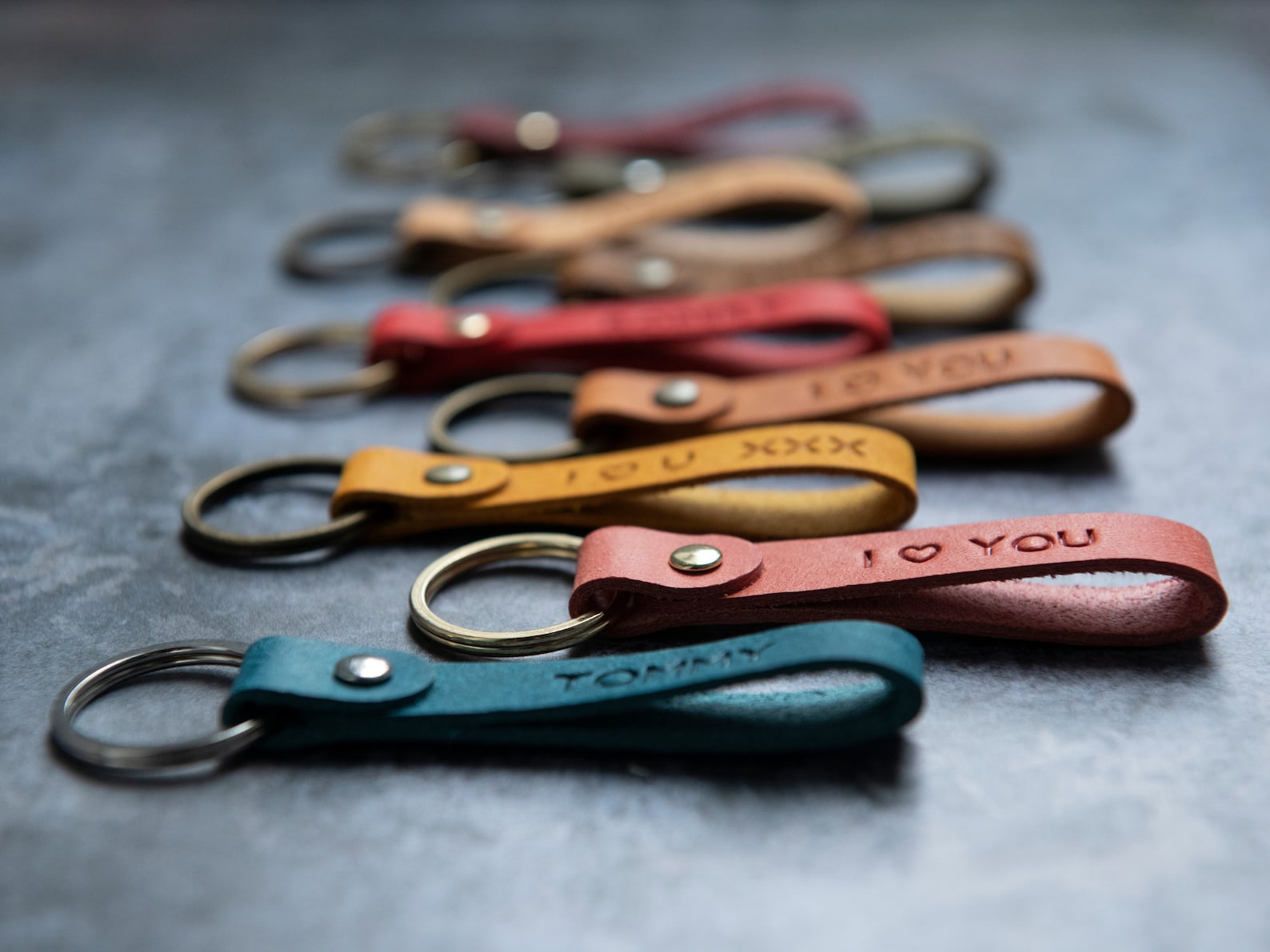 As long as you know who you are buying your Secret Santa gift, this personalised key ring is a fabulous idea. Well within most budgets, order in advance your you'll win the best gift award!
27. Men's steel Necklace Chain
Buy on Amazon
Prime
eligible
A great chain will be worn again and again.  Made in Steel it is hard-wearing which many prefer to bright, polished silver and is also within most Secret Santa budgets.
28. Men's Whitby Jet Single Stud
Buy on Amazon
For those men that have one of their ears pierced, another stud earring will always be appreciated.
29. Multi-Purpose Snowflake Tool
Buy on Amazon
Prime
eligible
For those hard-to-buy-for guys who you are sure are into a little DIY, this neat little tool is fantastically priced and may be well-appreciated.
To sum up …
We hope this gives you plenty of ideas to suit most price ranges for Secret Santa ideas for the festive season and to suit many tastes. We had great fun compiling this list and have added a few to our own Christmas Wish List!
We trust that you agree that none of these gifts are likely to be discarded the moment you are out of sight or, heavens forbid, come back to you wrapped in Christmas paper next year.  (Althouth, at least if it is, you'll probably rather like it!)
Enjoy the fun of the work festivities and Merry Christmas!
Sources: