Disclosure: *Some of the links on this website are affiliate links. This means that if you click on the links and make a purchase I may earn a small commission at no extra cost to you. As an Amazon Associate, we earn from qualifying purchases. This helps support our small blog.
The heart has been a symbol of love and affection for centuries and hearts still are one of the most popular icons used in jewelry design. Necklaces are obviously one of the most popular types of jewelry. So heart necklaces are hugely popular with jewelry designers and, in our opinion, are a good choice for most people when gifting jewelry.
Hearts don't just for symbolize romantic love. They are suitable for gifting between parent and child, and even between friends symbolizing a meaningful friendship. Similar to an infinity sign they are often presented to someone during times of difficulty to help sustain them with a gentle reminder of the important things in life, one of which is love.
If you are interested in knowing how this symbol came to be used as a way of expressing love and devotion, we have written an article here tracing the history of how its use evolved here.
But, in this article, we've searched for some of the most beautiful jewellery pieces featuring a heart. In our humble opinion, these are the best heart necklaces and pendants we could find. We have selected necklaces for a range of budgets and styles so there should be something for everyone.
Best Heart Necklaces
Précieux Secret No 12
Crafted in three colours of gold – yellow, rose and white gold – this slider necklace from Edenly has a "ribbon" like effect and is a real eye-catching necklace.
Black and White Diamond Heart Necklace
In tarnish resistant sterling silver and set with black and white diamonds this heart-within-a-heart pendant necklace remind us that opposites are compatible and and great together!

1/4 Ctw Black & White Diamond 11mm Heart Necklace in Sterling Silver
from: Black Bow Jewelry Co.
Diamond Heart Necklace
With ½ carat of sparkling diamonds this necklace will be treasured for a lifetime. With a T-bar detail, the modern paperclip link necklace is an up-to-date design of the classic heart necklace
Heart of the Matter Necklace
There are so many heart necklaces out there but this one offers a lovely dainty design. With a twisted chain and sparkling diamonds this choker necklace is for those who love a minimalist, un-frilly design.
Ruby and Diamond Heart Pendant Necklace
This exquisite necklace features deep red rubies (sapphires are also available) surrounded by a halo of shimmering white diamonds.
Large Heart Shaker Necklace
With a choice of different colored crystals to choose from and available in either sterling silver or 18ct gold vermeil, this fabulous Shaker necklace from Catherine Weitzman will brighten any outfit and has a lovely movement as you move about your day. Choosing a color which matches someone's birthstone may be a lovely touch.
In two-tone white and yellow 18ct gold in an open design, this double-heart necklace has been set with sparkling diamonds. A lovely modern, fresh twist on a heart design.
Triple Heart Slider Necklace in Silver
A fabulous necklace that is always a hit, this slider necklace features not one but three highly polished silver hearts on a silver chain. The necklace can also be engraved.
Marcasite Heart Pendant Necklace
With heart-shaped vines and shimmering marcasite this vintage-style necklace can look equally good with casual wear or dressed up with a little black dress.
Personalised T-Bar Heart Necklace with Paperclip Chain
A wonderful combination of all the old favorites and a dash of the new! This T-Bar necklace has a flat heart charm which can be engraved with your own personal message either on the front or the back. The chain is the fabulously popular new paperclip style link.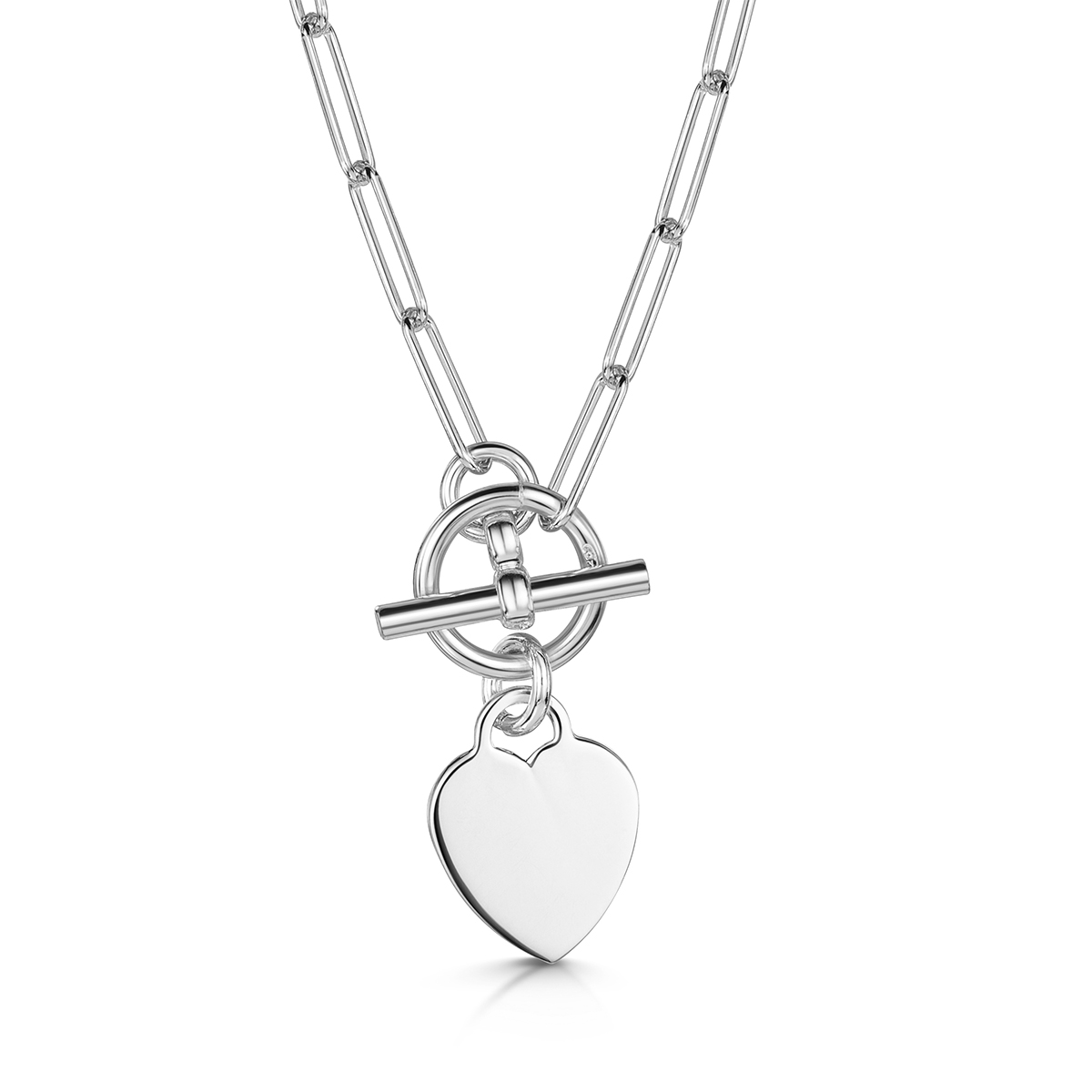 1/4ct Blue Diamond Heart Necklace in Silver
With a twisted cable chain and a ¼ carat of blue diamonds arranged within the heart in a cluster, this is lovely necklace for those who don't do dainty little delicate pieces, although it's not chunky but has a nice weight to it.
Three Color 14ct Gold Three Heart Necklace
This multi stranded necklace features three polished, puffed hearts – one in white, yellow and rose gold. Delicate looking and very feminine, it suits those who love layering their jewelry.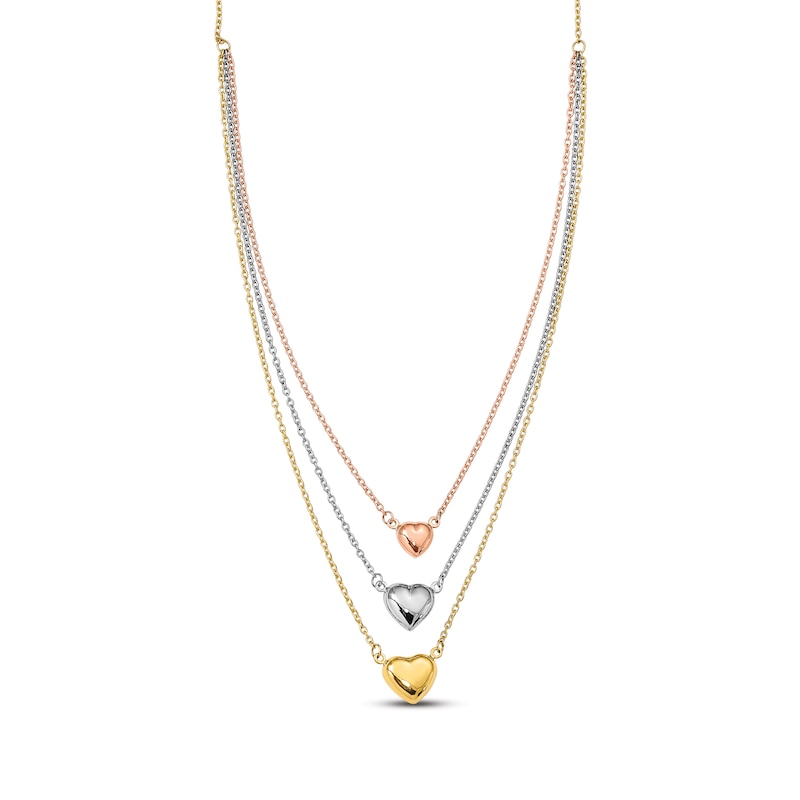 Heart in Feather Pendant Necklace
A cute little polished heart nestles within the silver feather pendant on a silver bobble chain – this is a great way of wearing a heart in a more modern design and on a pretty chain link style.
To Sum Up …
We hope this has given you some great ideas if you were on the look out for a heart necklace. Please do let us know if we've missed a fabulous piece that should be in this article.